It's definitely fun to hear an online esports betting site with the name of Unikrn (pronounced "unicorn"). The fun doesn't end with the name of this one, though. You see, it's a completely esports-focused platform, and it has a lot to offer. Cash betting at this site is only available to residents of Australia, New Zealand, the United Kingdom, and Ireland, although the site itself can be accessed from multiple different locations. Therefore, it is able to provide two different versions of esports betting – one for real cash and one for play money. The play money option takes place with something known as Unikoins, and the winnings from such gambling can be utilized to enter prize draws for skins and gaming chairs.
Pros
Huge collection of esports available to bet on
Nice enough welcome bonus for players from real-money countries
Appealing site design and mobile-compatible optimization
Possibility of purchasing skins with Unikoins for non-real-money countries
Cons
Only four countries can participate in real-money betting
Small choice of payment methods to use for real-money countries
No other gambling activities available at Unikrn other than esports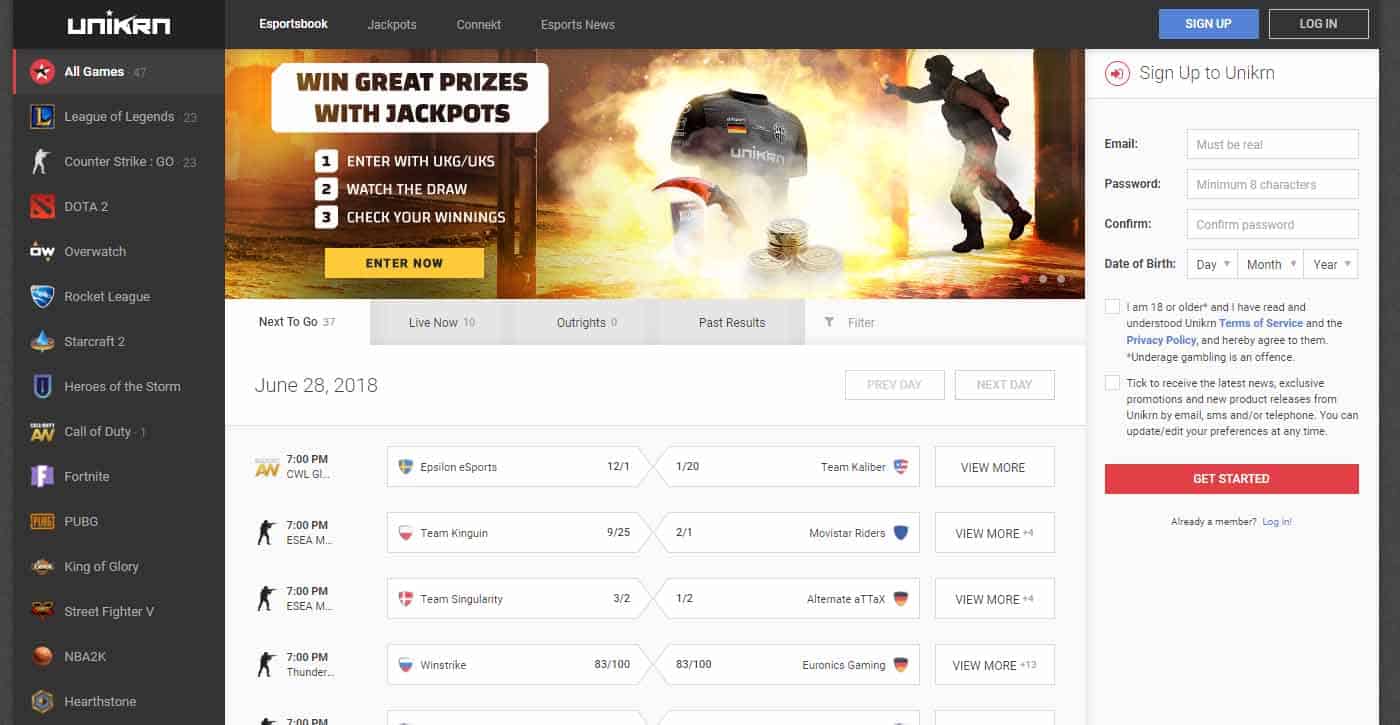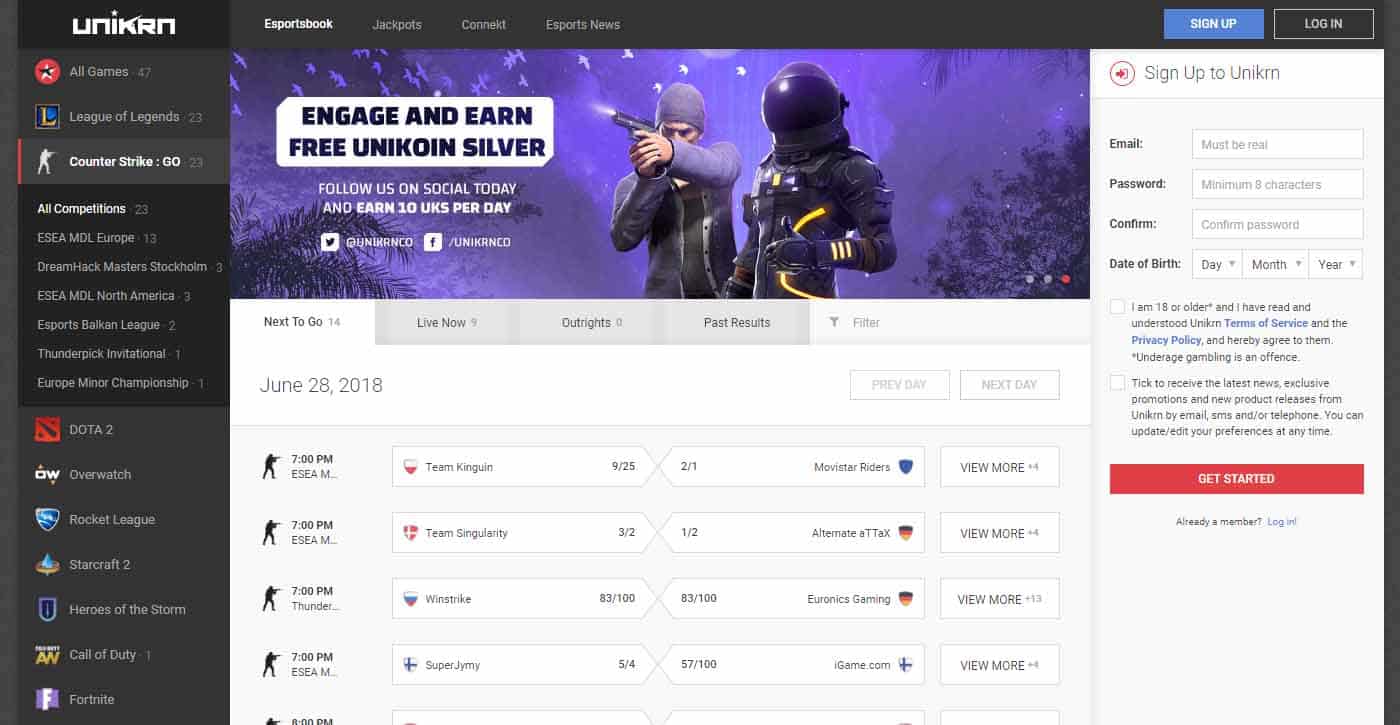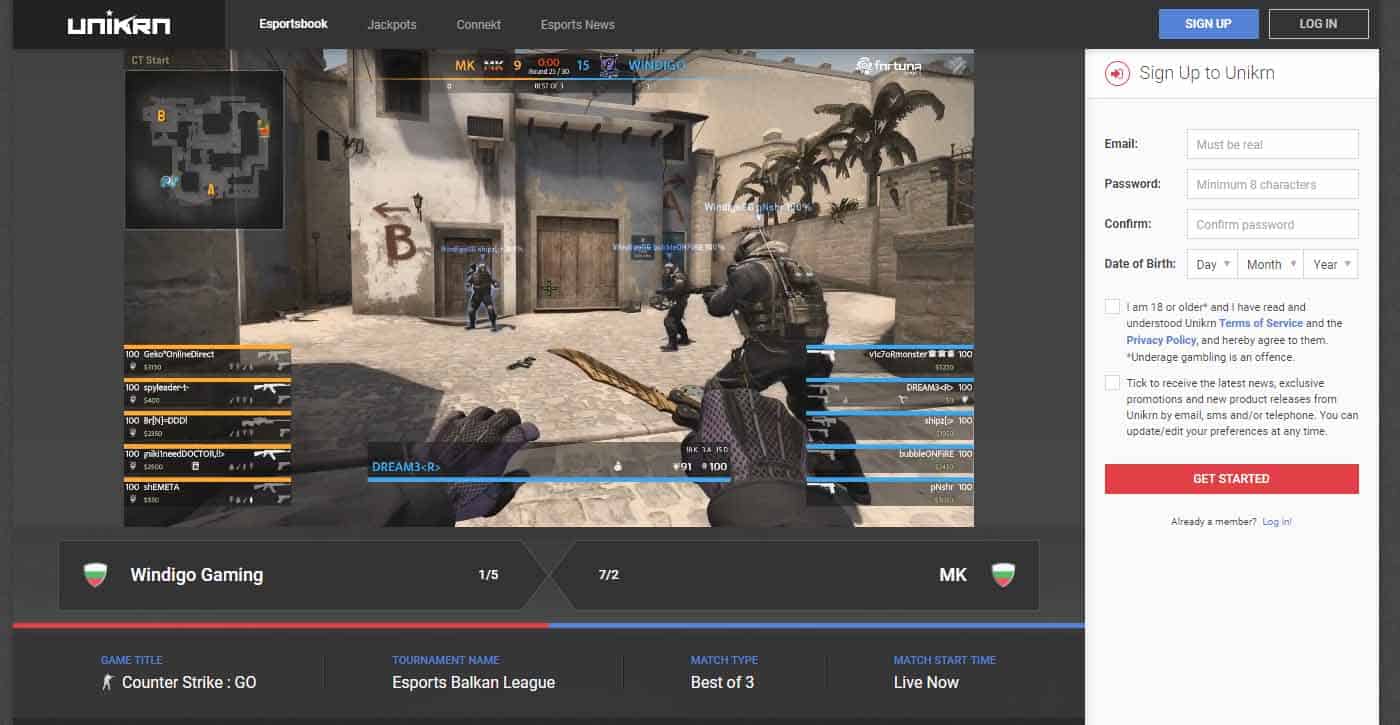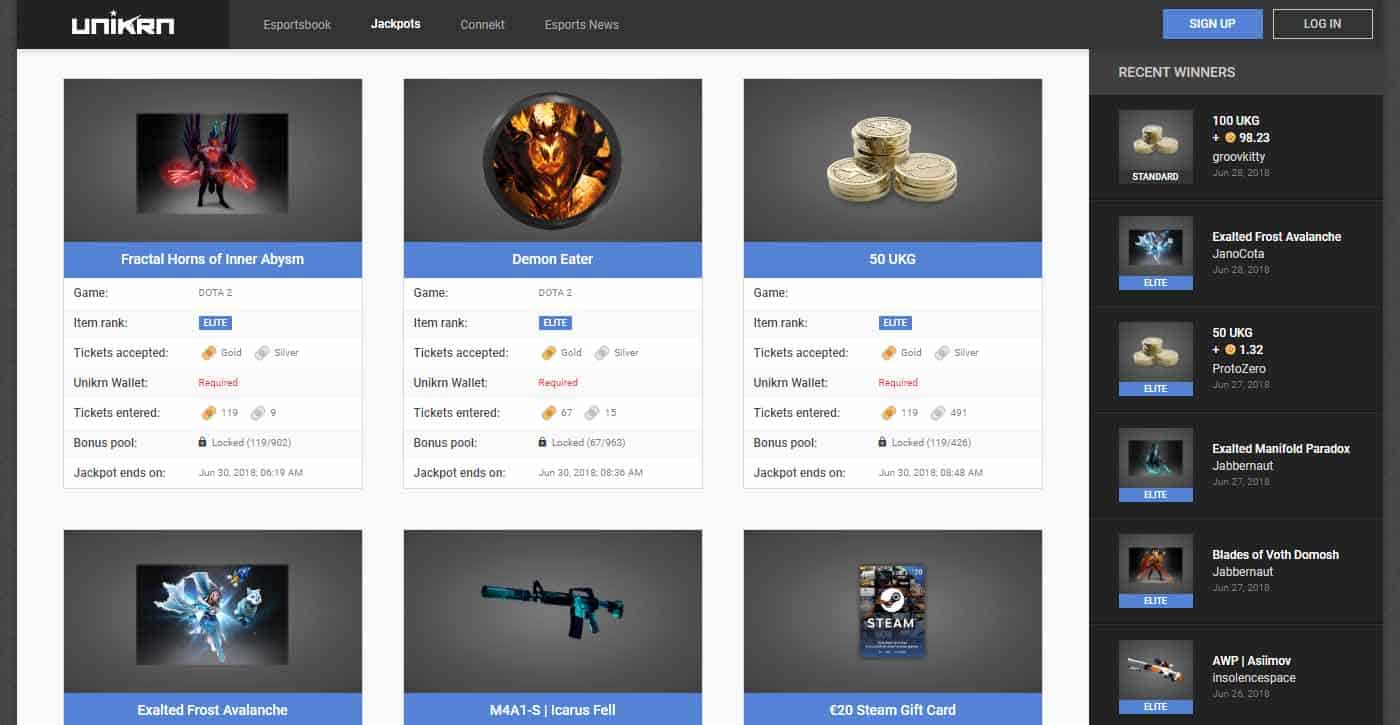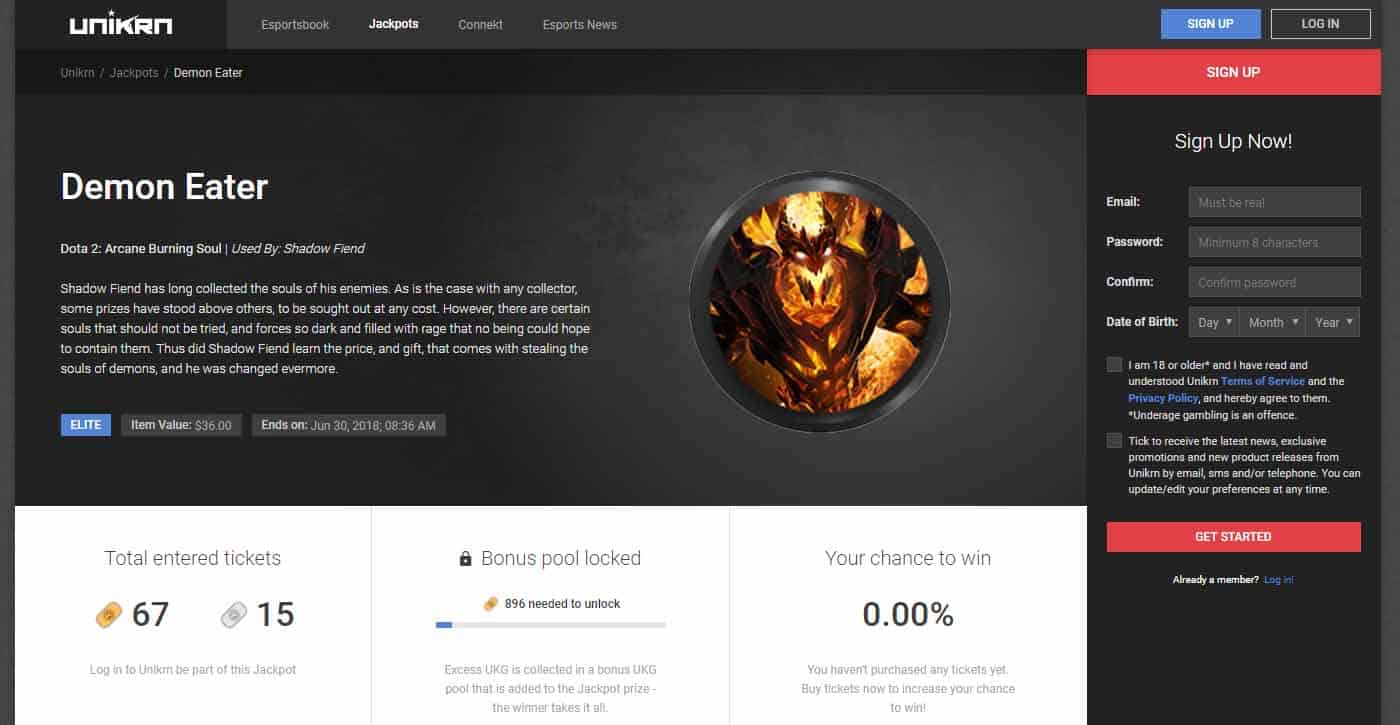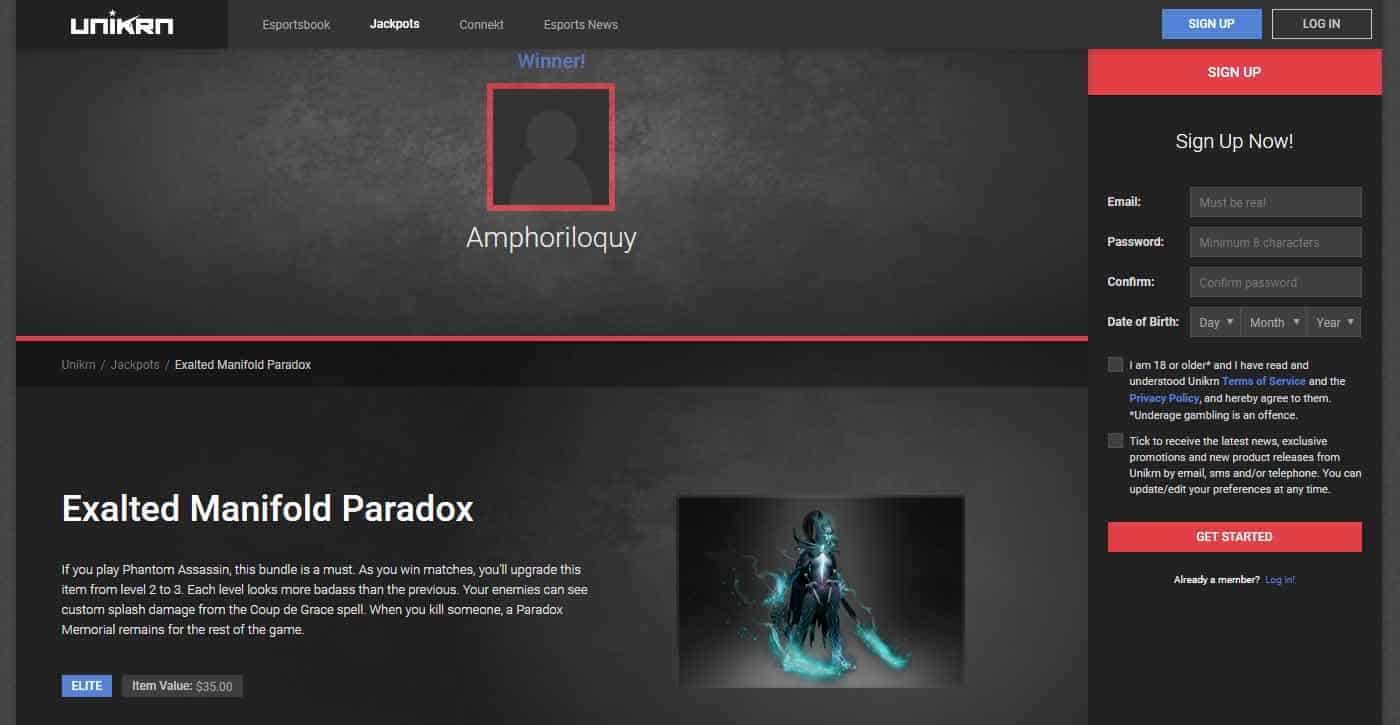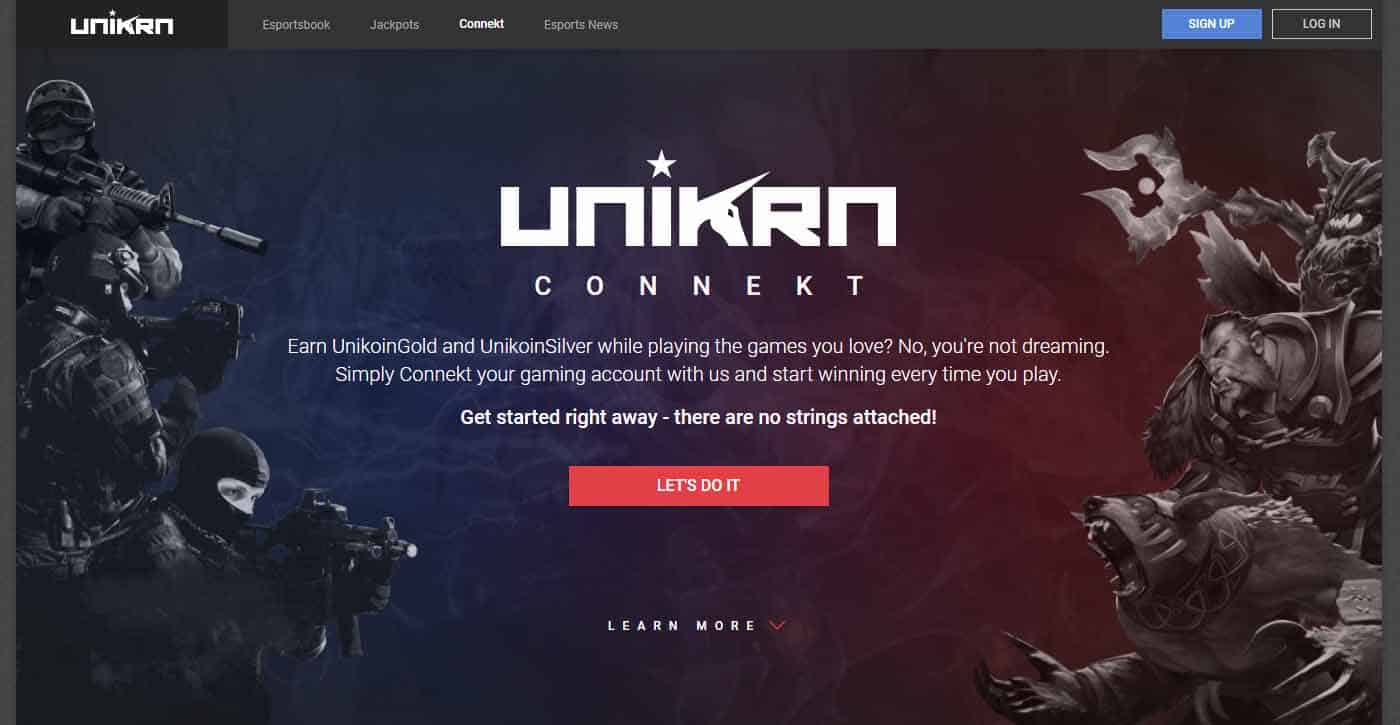 Esports Available to Bet On
The great thing about this esports betting site is that it incorporates a large choice of different options for betting on. Many platforms only include six or seven esports, so the fact that this one has so many more is very inviting.
Of course, this has a lot to do with it being a site that focuses completely on esports. All of the possibilities can be found down the left-hand side of the website, ensuring that you can easily access the events that you want to wager on. This being the case, you'll find that the platform provides you the ability to place bets on the following esports:

Visit Site
League of Legends
CS:GO
Dota 2
Overwatch
Rocket League
StarCraft 2
Heroes of the Storm
Call of Duty
Fortnite
PlayerUnknown's Battleground
King of Glory
Street Fighter V
NBA2K
Hearthstone
World of Tanks
FIFA
Bonuses and Promotions
The Unikrn platform does have a couple of promotions that are available, although these differ depending upon if you're a real cash bettor or a Unikoin bettor. For the latter of these, the promotions that are available to you come in the form of jackpot prizes. To be able to participate for these, you'll need to earn gold and silver Unikoins. You're able to collect this virtual currency via the Unikrn app, which is possible in three ways. First, you can complete the tutorial. Then, there are daily quests available to you on the website. Thirdly, you can play one of the four designated titles – Rocket League, Dota 2, CS:GO, or League of Legends. Once you accumulate enough tickets, you can decide how to distribute these.
For anyone living in the United Kingdom, for example, you've got the opportunity to claim a welcome bonus. This is similar to what you will find at online casinos and sportsbooks. This exists in the form of a match deposit bonus of 100% up to £50. The only requirements for using this bonus are that you have to make single bets of £5 or more on events with 1.50 odds.
Deposit and Withdrawal Options
Banking is, of course, one of the most essential parts of placing wagers on esports. However, the difference with Unikrn is that deposits depend upon where you're located. If you're in one of the four previously-mentioned countries, then you'll need to make a deposit of real money to be able to participate in real money betting. For this, you can utilize options like credit and debit cards from Visa, Mastercard, and Visa Electron for all four.
Otherwise, you can choose to use a bank wire transfer if you live in Australia. Deposits are instant in all cases. As far as earning silver and gold Unikoins is concerned, you'll need to have a Steam account connected to the site. For silver coins, you need to play the Rocket League game. And for gold coins, you need to be playing either CS:GO or League of Legends.
Because of these two different situations, withdrawals are completely different as well. This being the case, if you're playing with Unikoins, you aren't able to withdraw any real money. That's because Unikoins are virtual currency and unable to be withdrawn as real cash. Instead, the winnings that you earn from placing wagers with your Unikoins can either be used for entering the aforementioned jackpot prize competitions or for purchasing items from the site's marketplace. This includes the option of purchasing skins as well as other items, such as Steam gift cards.
On the other hand, if you are a real money bettor at Unikrn, then you will be able to make a withdrawal of your winnings in the same way as any other sports betting site. Payouts by credit or debit card are usually complete within two to three business days, and you won't suffer any transaction charges, either.
Mobile Compatibility and User Experience
For those bettors who enjoy placing wagers while out of the house, there is a mobile version of the Unikrn site for you to access and enjoy. It doesn't incorporate a mobile app, but you can still enter the website address into your device's browser and see an optimized version of it on your screen. This provides you with a more compact setup of the platform than the desktop offering, but it still ensures that you receive all of the same betting opportunities and odds. Again, this works differently depending upon which country you are in and whether or not you have access to real money wagering. However, the experience is one of high quality as well, ensuring that the mobile offering is just an enthralling as the desktop version.
On the whole, the experience of placing bets at the Unikrn website is a very high-quality one. The site is laid out in a truly inviting way and ensures that you can access what you want, when you want. It utilizes a color scheme of black and white primarily but incorporates grays and blues into things as well. The esports can all be seen down the left-hand side of the screen, giving you easy access to the different events. Meanwhile, you've got separate links reading across the top of the screen so that you can move between its different sections.
Other Gambling Activities Available
The Unikrn platform is 100% dedicated to esports betting. Therefore, you won't find anything like an online casino or standard sportsbook at this platform. This isn't so much of a downfall because Unikrn has so many esports betting opportunities for you to access. While it would be nice to see one or two alternative gambling options, it's also nice to see a website that is fully dedicated to placing bets on esports.
The fact that you can earn Unikoins from playing different esports makes for a secondary route to go. Therefore, you can play the relevant games and then move over to the Unikrn website to place wagers on the different esports as you see fit. Then, with the winnings you potentially make from such, you'll be able to purchase new skins in the marketplace and participate in certain competitions for the chance to win extra Unikoins.
Is This a Good Site for Esports Bettors?
The fact that it's dedicated entirely to esports makes Unikrn a great platform for avid esports bettors. There are so many games available for you to place bets on that you're not likely to get bored with the options on hand. Of course, it's a shame that only players from four countries can participate in real money gambling on the available esports. However, that's not to say that those people who are playing with Unikoins can't have a good time. Quite the contrary. Whether you're participating in real money gambling or Unikoin gambling, Unikrn provides a great experience.
The payment methods that you're able to use as a player from a real money country are quite limited, it has to be said. Yet these are still popular enough methods and will allow you to play for real money winnings. Furthermore, there's a decent enough, yet quite average, welcome bonus for such bettors as well. Things are made better by the fact that you're able to place wagers from a smartphone or tablet. However, if you're also looking to take a break from real money esports betting to bet on something else, Unikrn is not the right site for you. It's fully concentrated on providing esports betting, so you won't be able to access anything other than this.