Thunderpick is, quite frankly, a great and intriguing name for an esports betting platform to have. It bases itself out of Curaçao, and consequently, it holds a gambling license from the same jurisdiction. This platform has been around for roughly two years now, so it's still a relative newcomer to the industry. One of the great things about it though, is that it has a central focus on esports betting. Therefore, it doesn't have to split its dedication between as many areas as many other platforms do.
In this respect, Thunderpick can focus all of its efforts on providing a highly appealing esports wagering platform. And it does just that by providing pool betting. This allows players to bet against each other and therefore adjust the odds in the process. This differs from many others, where your bets are, to put it simply, done against a computer that determines the odds. So, let's see what this site has to offer up to its members.
Pros
Good range of esports available for betting on
Mutual betting in action at the site
Wide range of payment methods to make use of for depositing and withdrawing
Strong layout and design
Cons
Average and slightly uninspiring promotions
Transaction fees for all payment methods, except Bitcoin and skins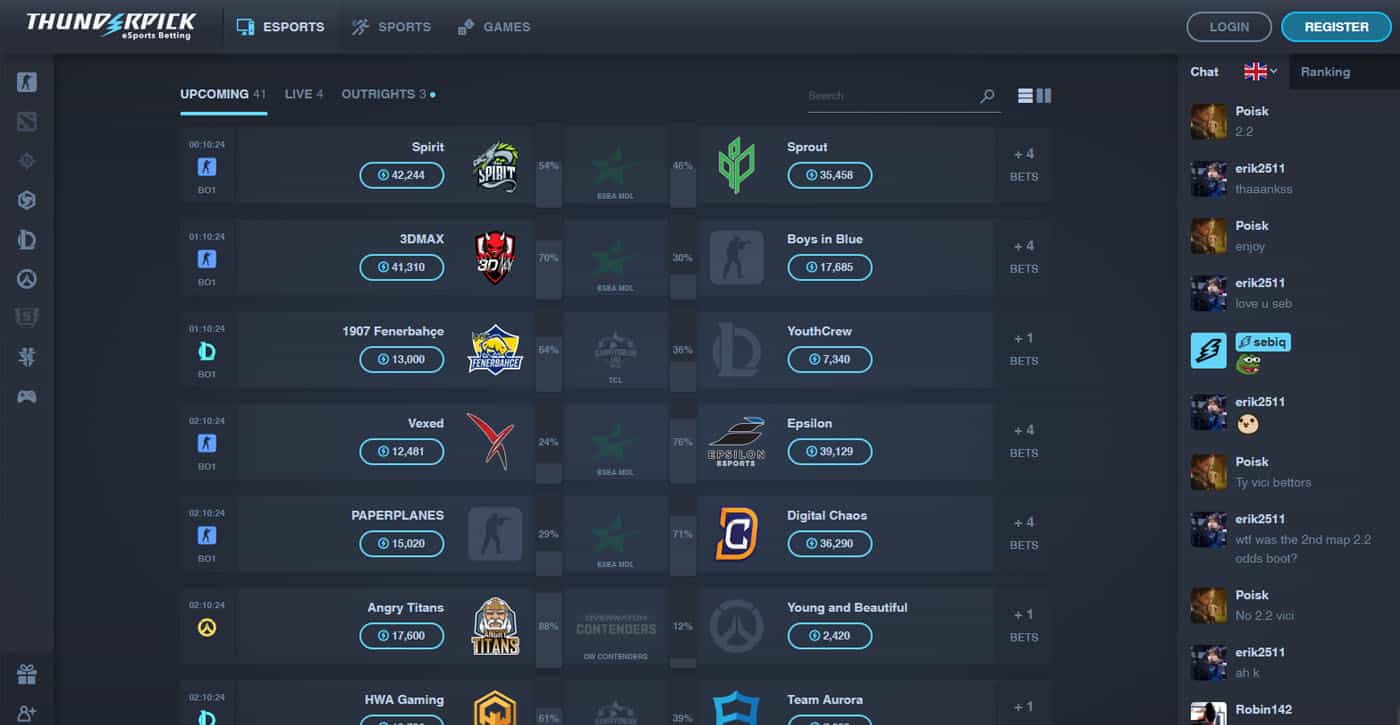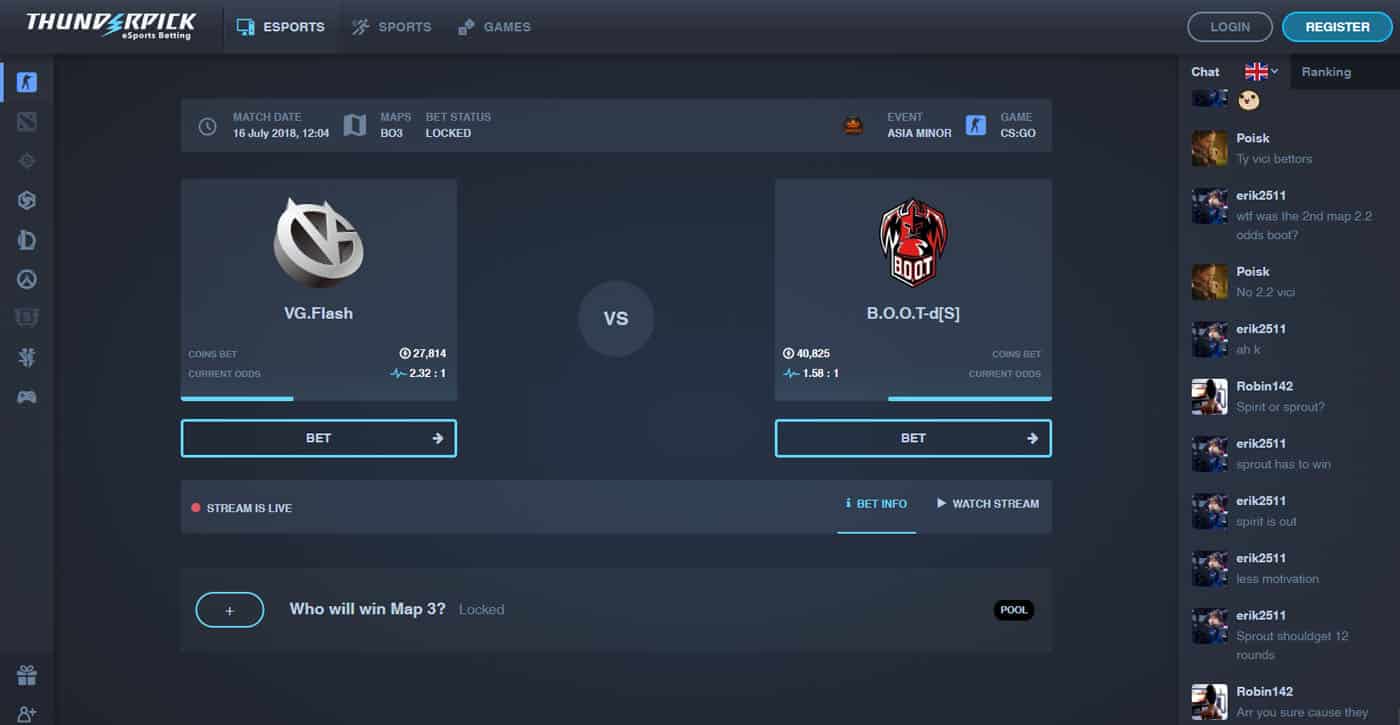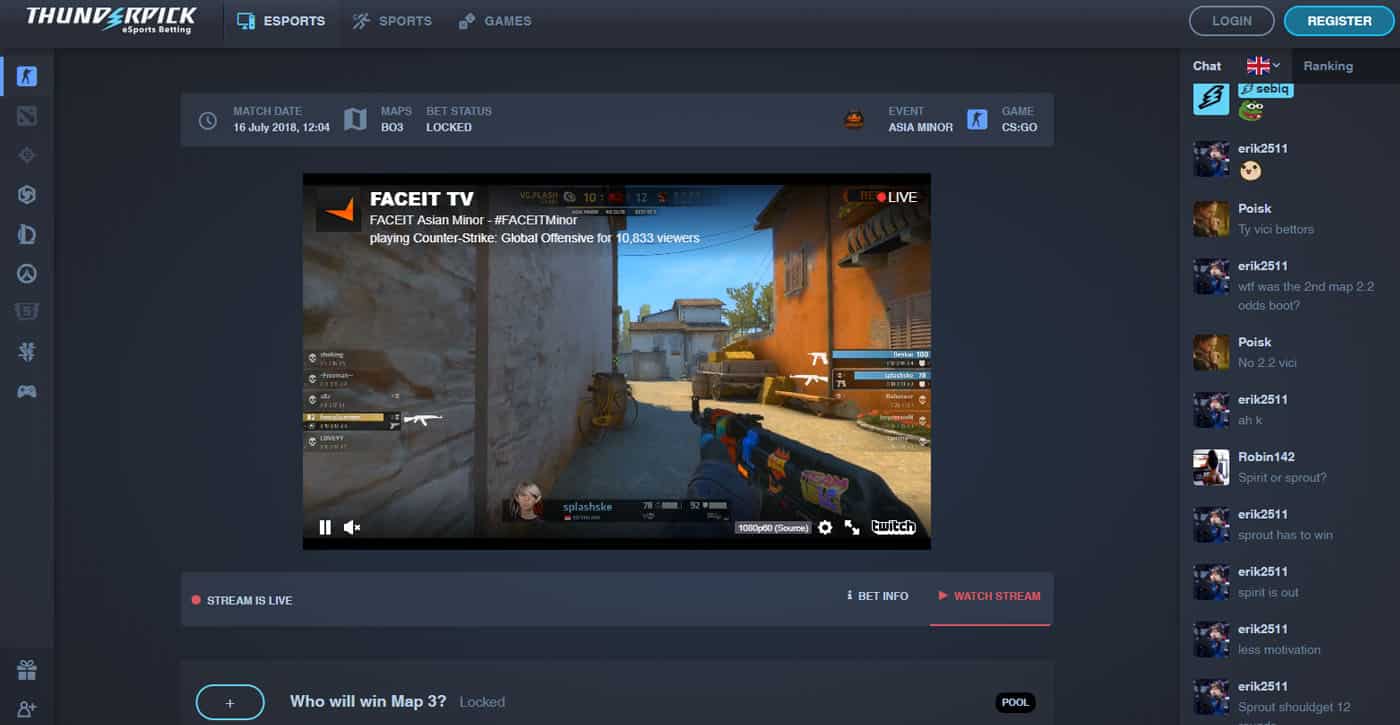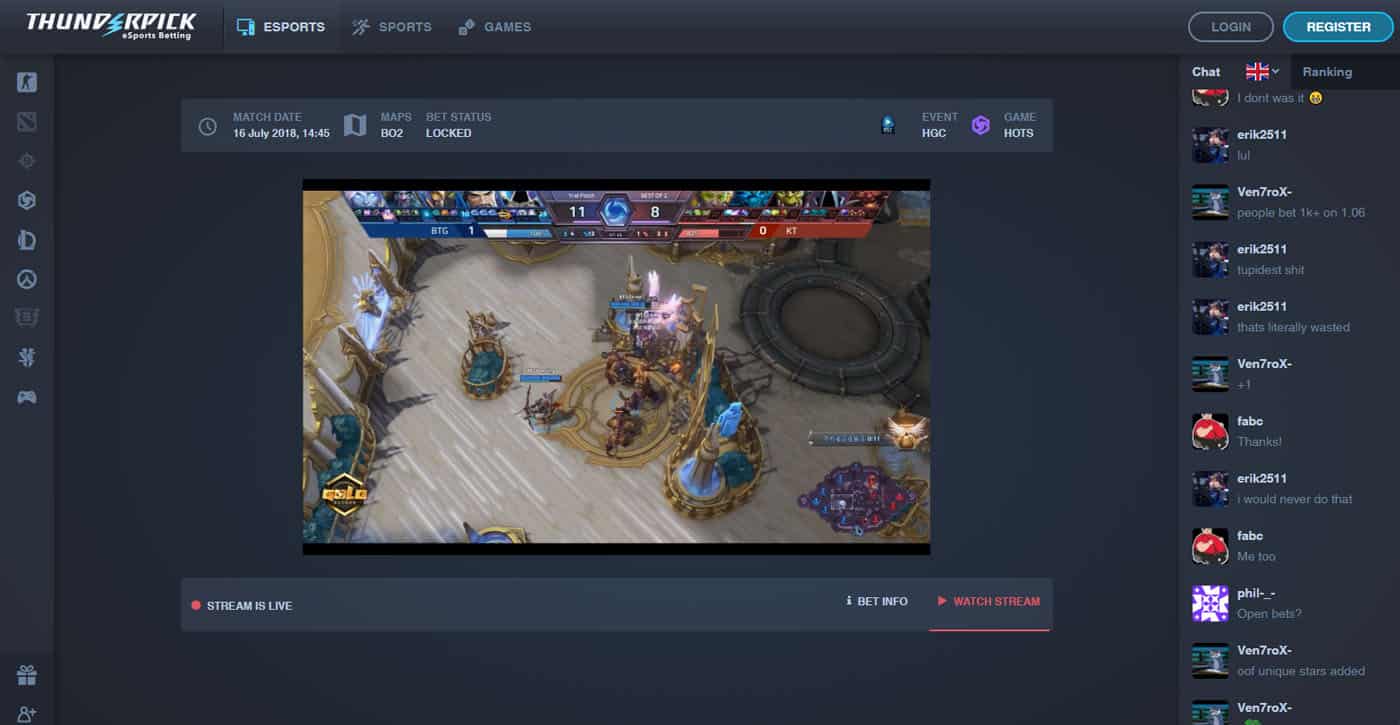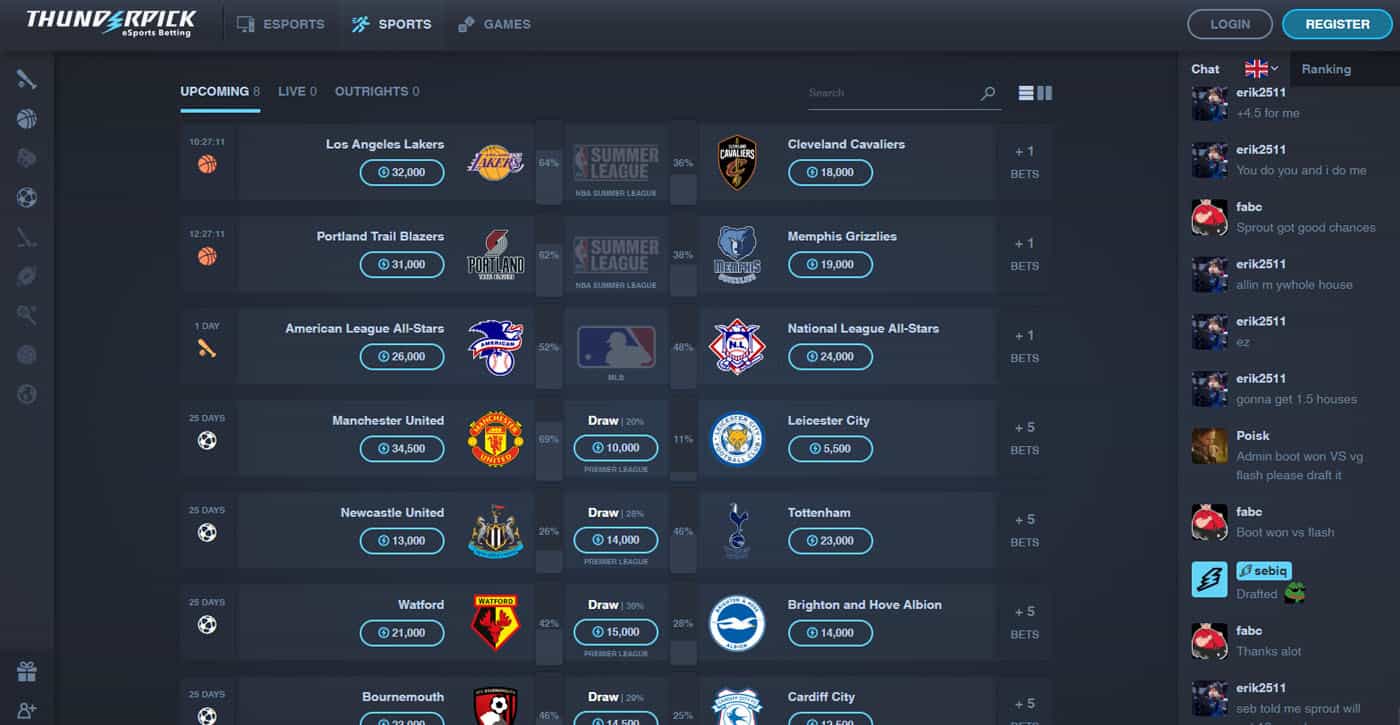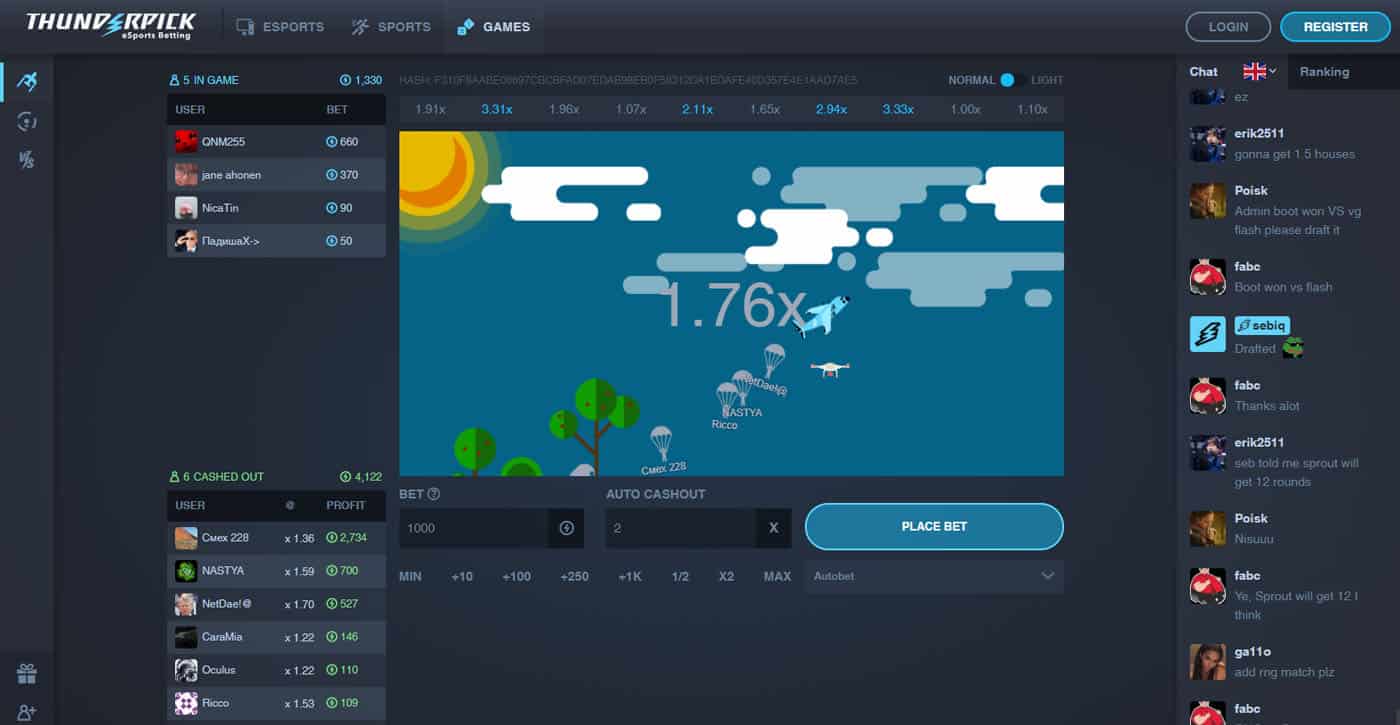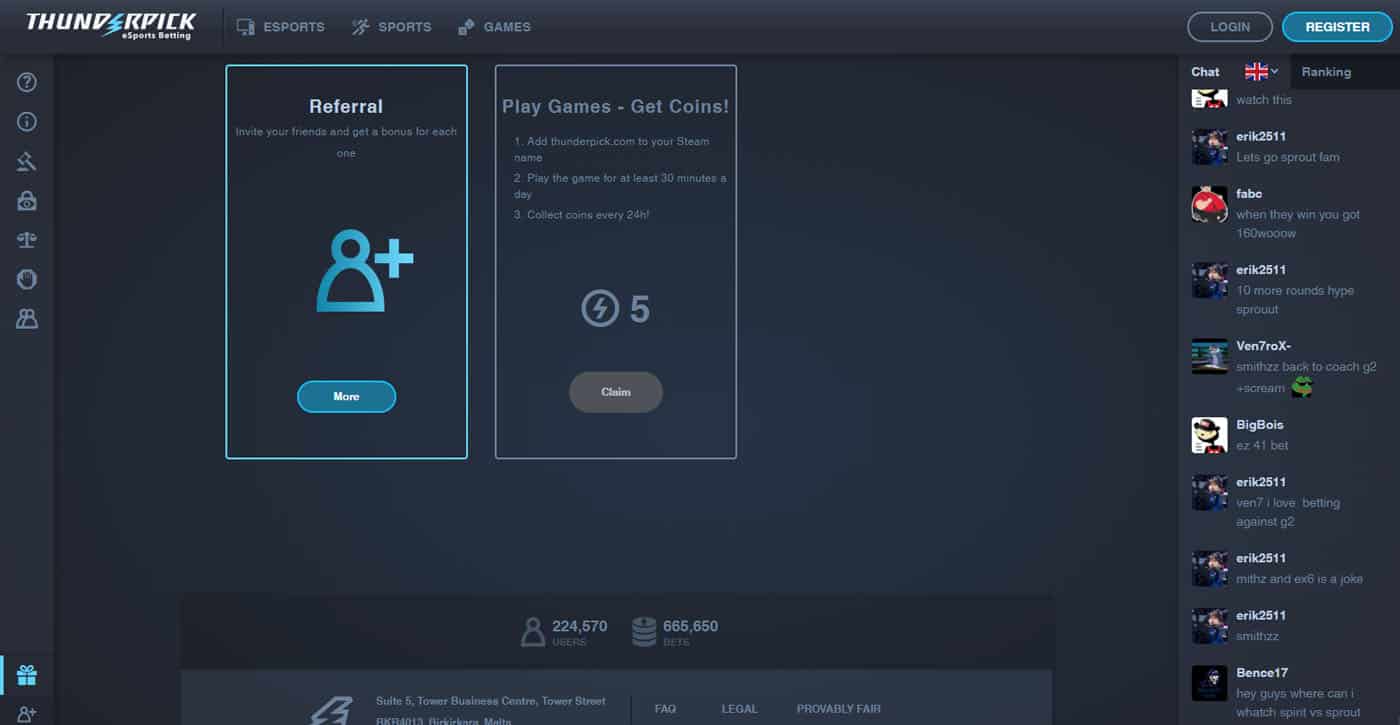 Esports Available to Bet On
As mentioned, Thunderpick puts it central focus on providing esports betting. Therefore, you can expect it to incorporate several options for you to place wagers on. All of the esports are on display down the left-hand side of the screen, giving you easy access to all of the events. The possibilities at this platform are a merger of some of the most popular games and others that are rarer to find for wagering on. This gives it a nice and diverse mixture to provide to its registered bettors. Therefore, the betting possibilities at Thunderpick when it comes to esports are the following:

Visit Site
Heroes of the Storm
League of Legends
Bonuses and Promotions
Special offers and promotions are all a part of what makes an online gambling platform intriguing. Thunderpick doesn't work in the same way that many other sites do, though. You see, it doesn't have any kind of welcome offer for newcomers to claim. And in just the same way, regular players don't have specific set promotions to benefit from, either. For the time being, the only promotion that is a constant at Thunderpick is its referral rewards. From this, you're able to receive what are determined as "Free Coins." These are what you will use to make your bets on the esports platform.
The free coins that you're able to receive come from bringing other people to the site as esports bettors. First of all, you need to ensure that you have a Steam account to be able to participate in this. You must also own CS:GO, Dota 2, or PlayerUnknown's Battlegrounds, while your Steam account needs to be public. Then, invite all of your friends to the Thunderpick platform, and receive a bonus of free coins for each one that signs up and bets there. Furthermore, you can continue collecting coins and play one of the three aforementioned games for at least 30 minutes to collect free coins every 24 hours.
Deposit and Withdrawal Options
Thunderpick isn't quite as well-known as many other online esports betting platforms. Therefore, it would be understandable if it didn't have a huge selection of payment methods to use for depositing. However, this isn't the case with the platform. There are many payment methods that you can put to use, starting with the Visa and Mastercard options.
You'll also be able to use e-wallets from Neteller and Skrill, while others come in the form of Yandex, WebMoney, Qiwi, AliPay, and even Paysafecard. For those of you who like using cryptocurrencies for depositing, Thunderpick accepts deposits via Bitcoin. Finally, you're also able to use CS:GO skins as an alternative. The exchange rate for these is roughly one coin per cent. Therefore, if you have a skin that costs $1, you'll get 100 coins for betting with. The Bitcoin and skin deposits don't incur transaction fees, whereas all of the others do.
As far as withdrawals go, these aren't as instant as most of the depositing methods. Multiple checks are done before a withdrawal is processed through to you. Each of the payment methods has its own transfer time as well, although the e-wallets and Bitcoin tend to be pretty much the fastest. A card withdrawal can take anywhere between 24 hours and five days to complete. If the method that you utilized for making a deposit isn't available to withdraw through, then you'll have the funds sent via bank wire transfer. These can take between three and five working days to fully process through to you.
Mobile Compatibility and User Experience
The Thunderpick esports platform is also accessible from mobile devices. Therefore, should you have the interest in betting while you're out of the house, you can do this. While there isn't a mobile app for you to download, you can simply put the website's address into your device's browser and load up the mobile version of the site. This has all of the same features as the desktop version; it's just designed in an optimized mode for your mobile device. This is much more compact for your smartphone or tablet screen but has high-quality graphics and functions included. So, if you want to place sports wagers while on the move, Thunderpick can cater to you for this.
As far as the overall user experience of Thunderpick goes, it has a very attractive and appealing website design. It utilizes a lot of deep blue colors, ensuring that the lighter tones stand out against the background. Across the top of the site is where you navigate between the different gaming and betting sections of the platform. Clicking on the "esports" link will then show each of the options down the left-hand side of the screen. The events are then displayed in the middle of the layout, ensuring that you can see what's on offer and what their odds are. All in all, Thunderpick has a strong layout with user-friendly functions.
Other Gambling Activities Available
Esports may be a large part of this online platform, but it also provides access to other gambling activities alongside. A standard sports betting section is also accessible for members. This isn't quite as large as what you will find at other websites. However, you'll still be able to place wagers on sports such as ice hockey, basketball, volleyball, boxing, and tennis. Therefore, if you ever want to take a break from placing esports wagers, you can bet on some physical sporting events instead.
That's not all, though, because there's a section that is known as "Games," where you're able to access two different casino-like offerings. The first one is known as "Spin," and the other is "Strike." Both of these are quite interactive, and there's a tutorial for you to check out before you place bets on either of them. Therefore, you're able to inform yourself fully on how they work beforehand. They certainly make the Thunderpick platform more intriguing on the whole.
Is This a Good Site for Esports Bettors?
Thunderpick may be a little bit different from the norm in the sense that it encourages mutual betting rather than the standard kind. However, this is not a bad thing by any means. Mutual betting can be quite the thrilling method of wagering on esports. Plus, while there is still room for extending the esports betting possibilities, the lobby of events is quite decent already. Members of the site get the chance to benefit from wagering on various games. To add to this, the site is accessible on mobile devices, meaning that you're able to wager on your favorite esports while you're away from home.
Adding to this, it's great that the platform accepts so many different forms of depositing and withdrawing, including Bitcoin and CS:GO skins. Therefore, bettors get a wider variety of options when it comes to transferring money in and out of their Thunderpick account. The platform itself is also well-designed, ensuring ease of use and a visually appealing layout. It's a bit of a shame about the lack of any kind of welcome offer, we must admit. However, the ability to claim free coins at times is appealing, leading to a bit more of a rounded experience while playing at Thunderpick.