You'll never need to have any kind of doubts about the shelf-life of Sportsbetting.ag, as it's been around since 2003, giving it one of the longer runs for an esports platform. Of course, it didn't begin its time online by providing esports. Instead, it started out by providing bettors with the chance to place wagers on standard sports events. It soon expanded its reach, though, incorporating various other betting options into its platform, including the aforementioned esports offerings. Basing itself out of Panama – from where it also holds a gambling license – Sportsbetting.ag has been making waves through the gambling industry. Especially considering that it provides a location for US bettors to satisfy their esports betting needs.
Pros
Good collection of payment methods to utilize for making deposits and withdrawals
Well-designed website which is easy to navigate around
Compact and clean mobile version of the site on hand
Appealing enough welcome offer for newcomers
Wide range of alternative betting options available to access
Cons
Smaller collection of esports to place wagers on than other sites
Minimal special offers that cater specifically to the esports community
More of a focus on casino, poker, and sportsbook options than esports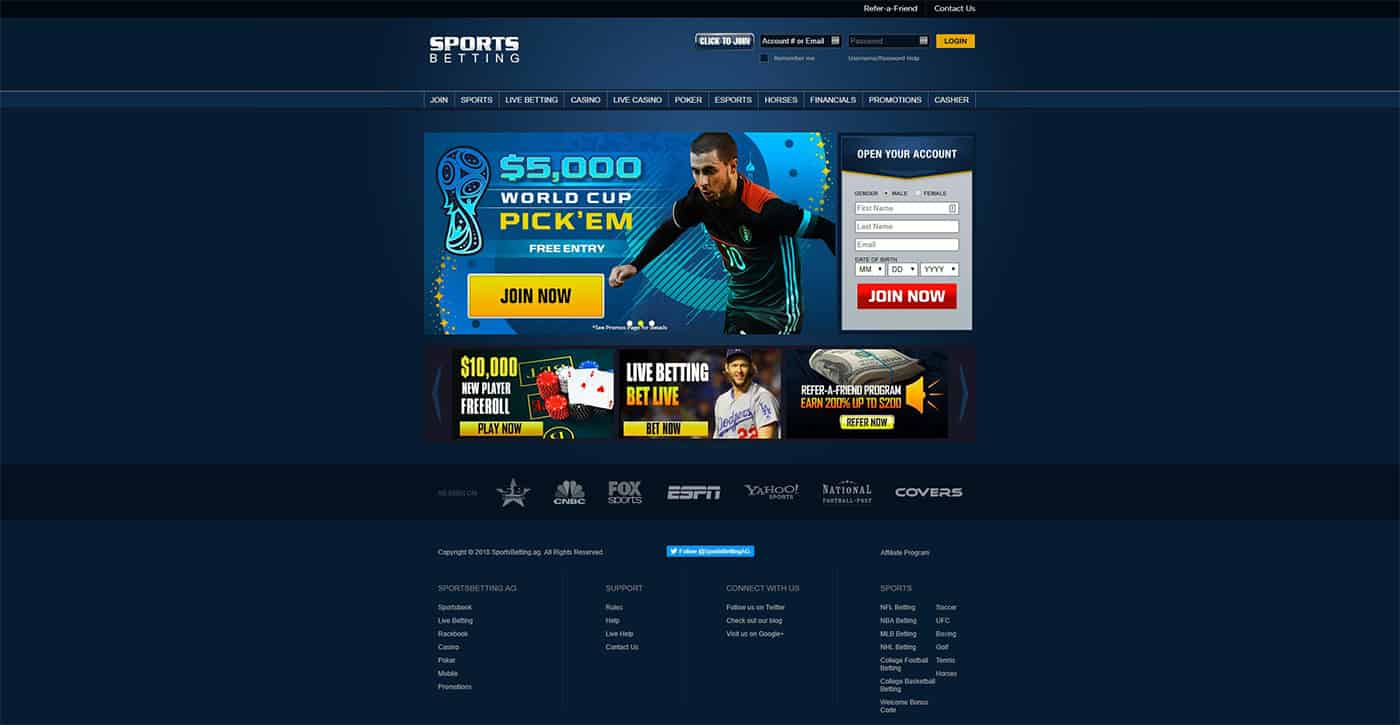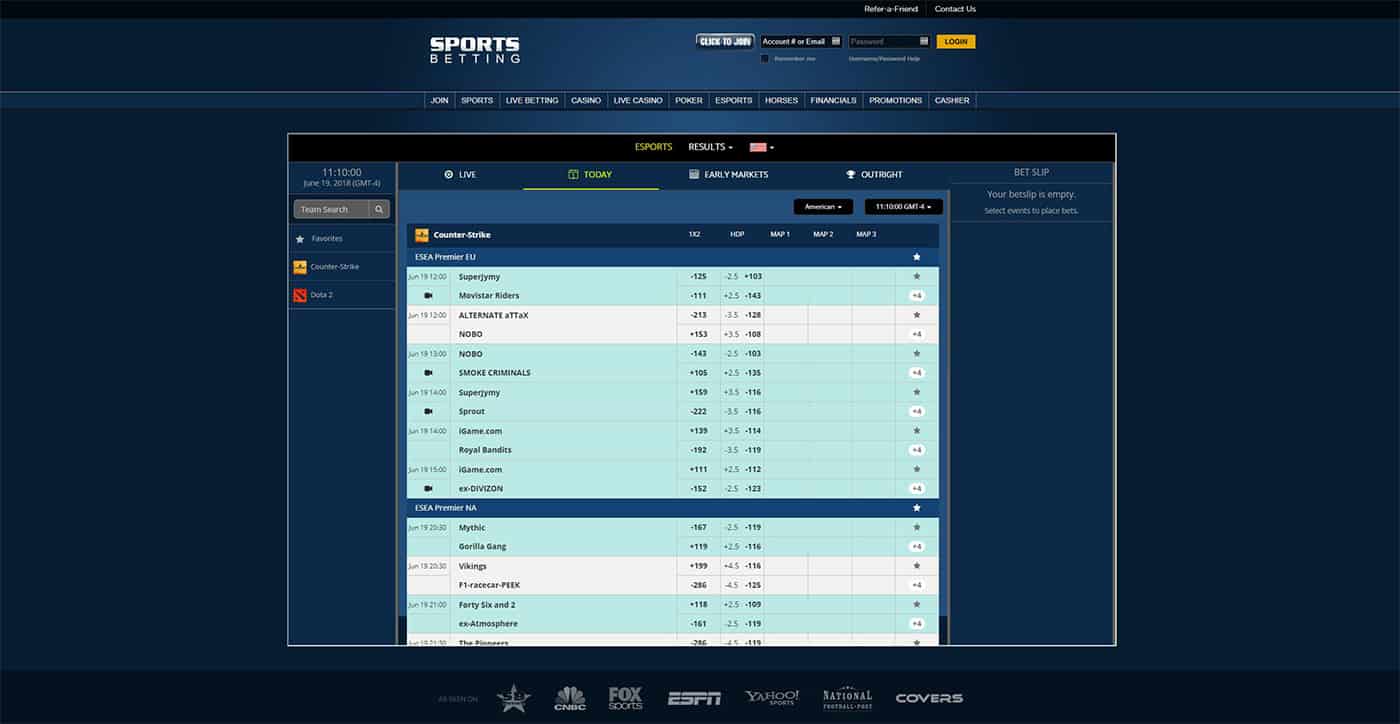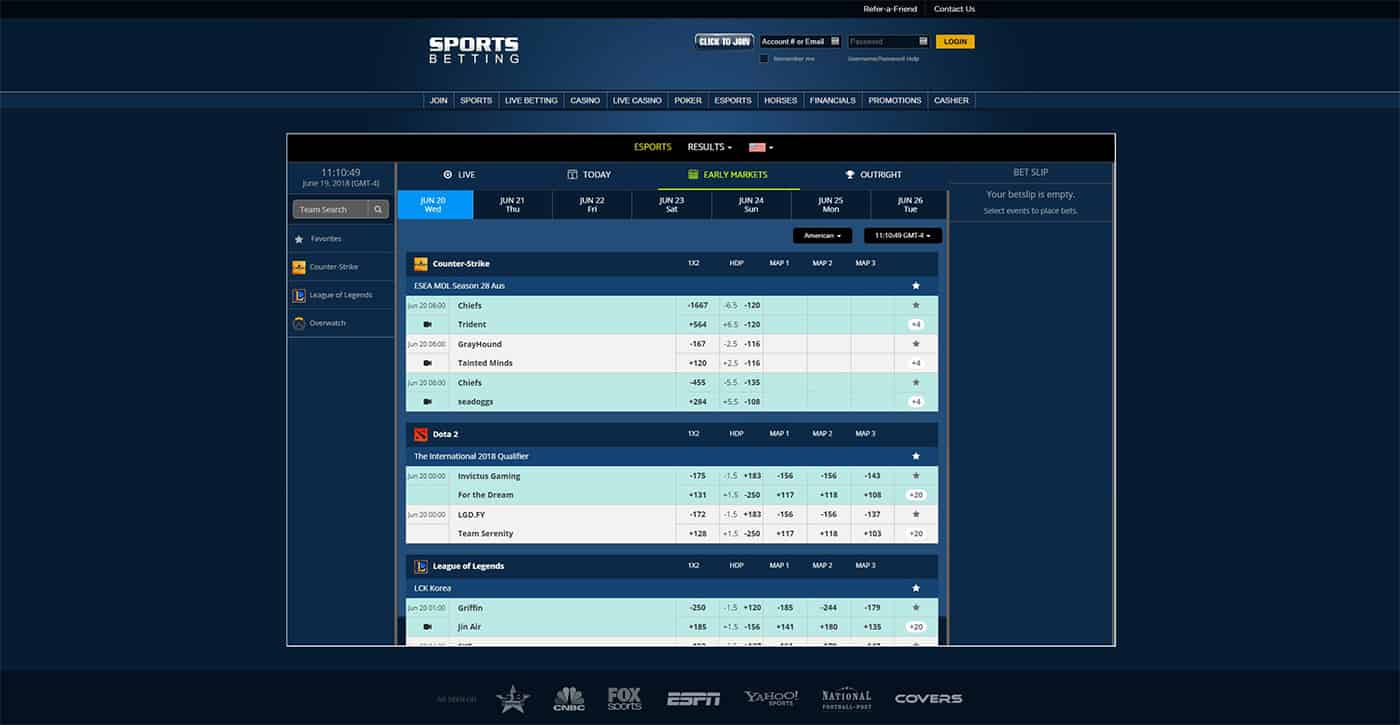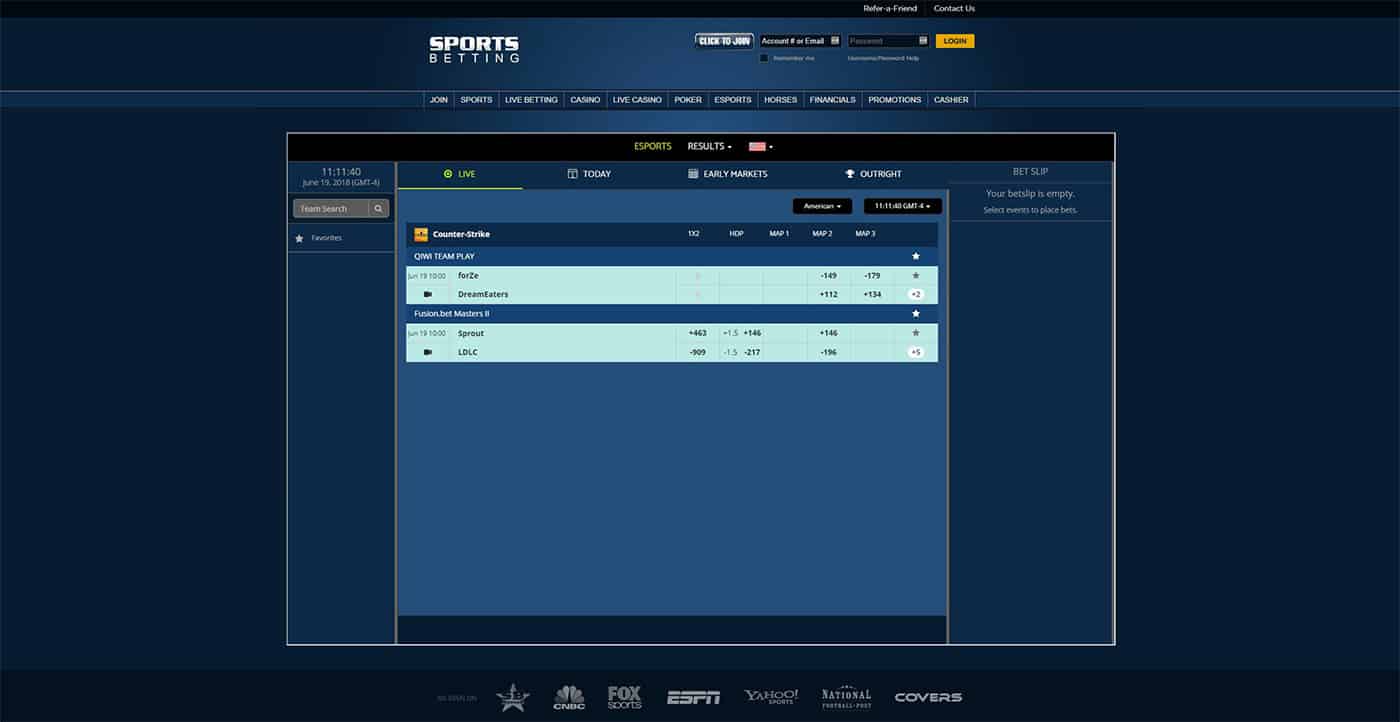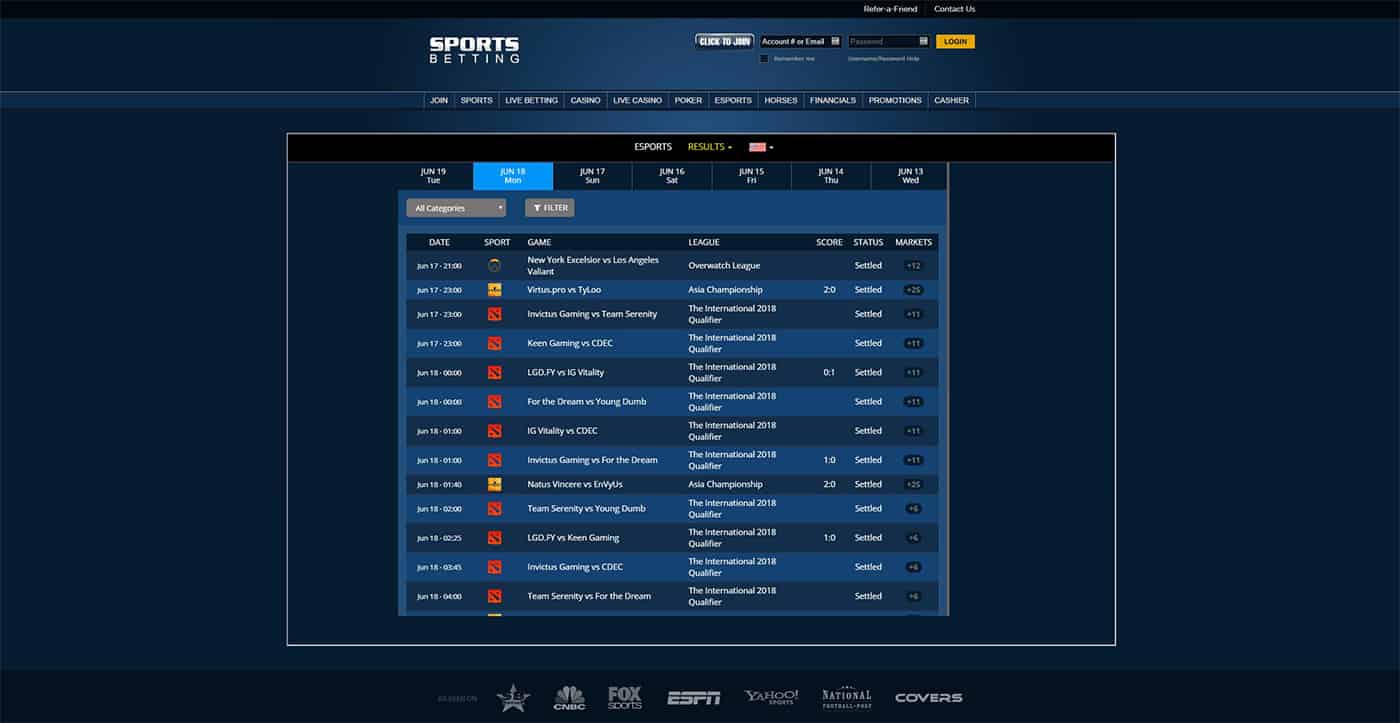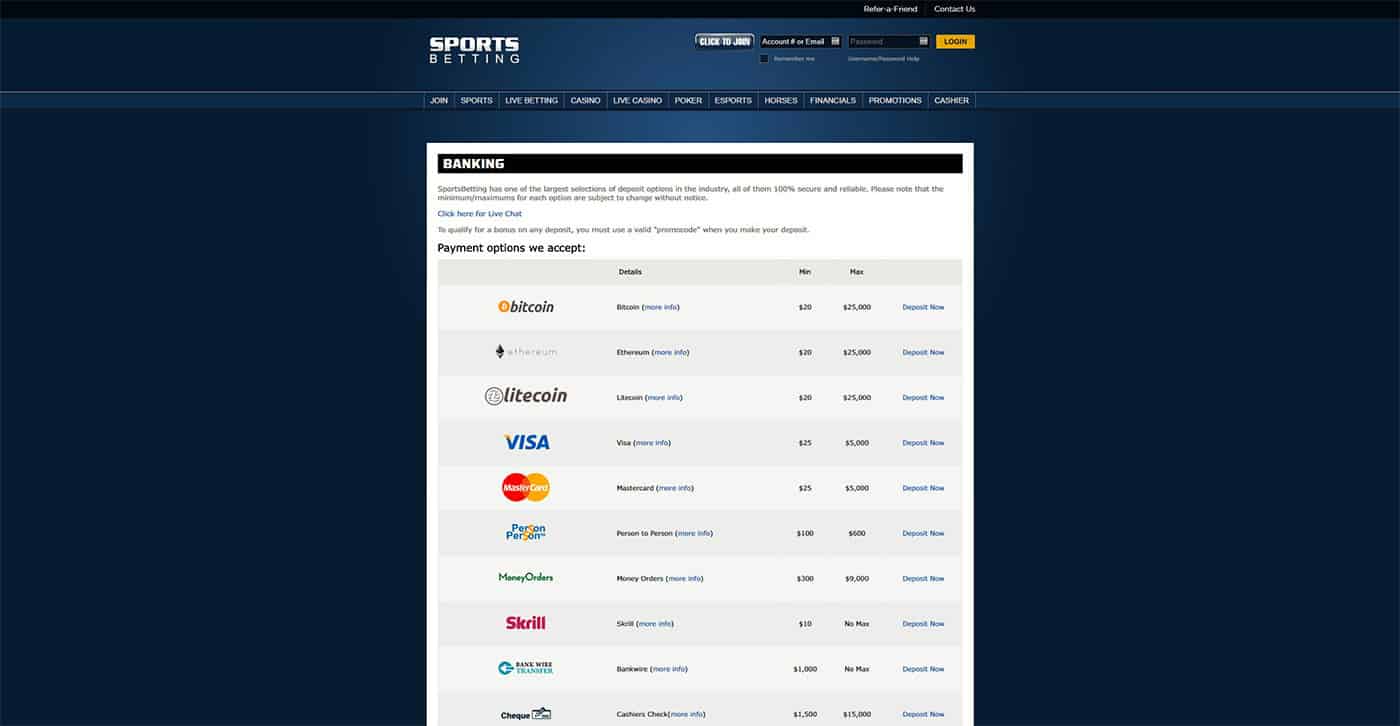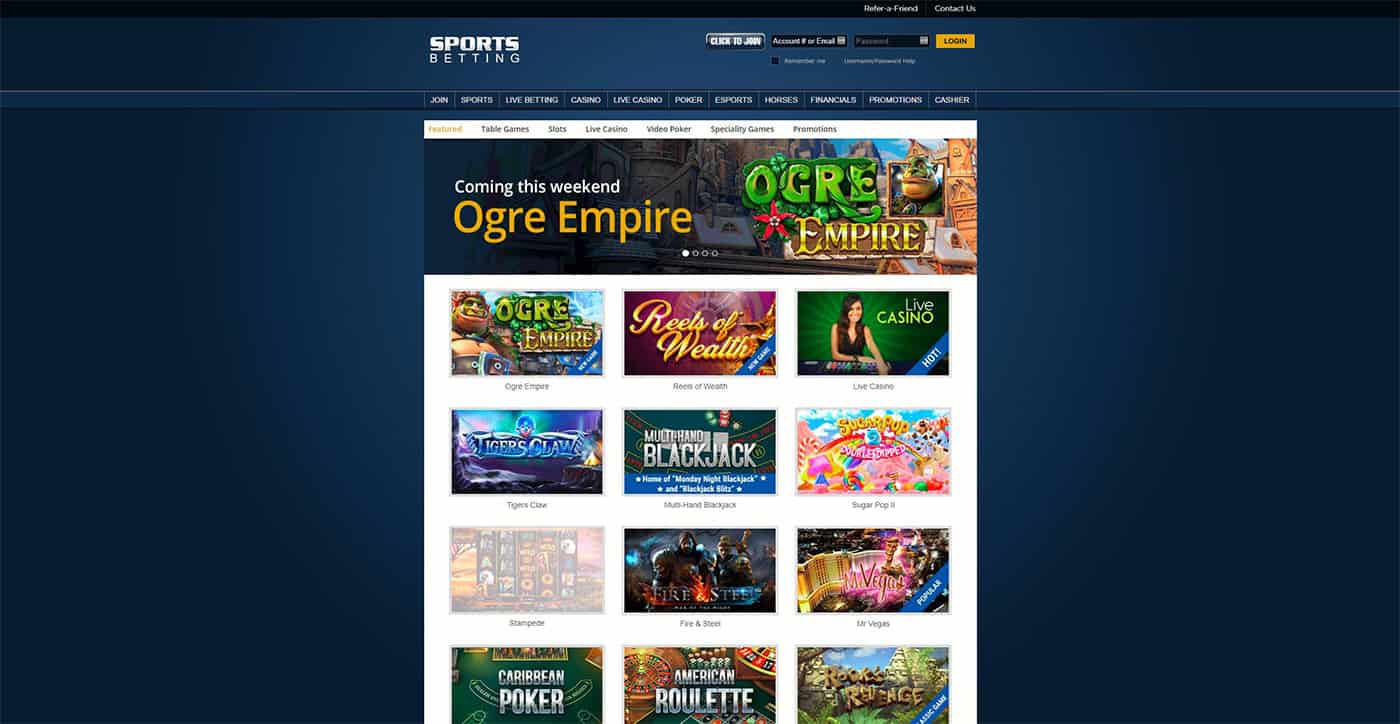 Esports Available to Bet On
Even though Sportsbetting.ag has been providing esports for a considerable enough amount of time now, it still only has a very small selection of such available to its members. This differs in comparison to most other platforms, which ensure that a wide variety of possibilities are on hand to access.
Now, as we mentioned before, Sportsbetting.ag has been available for most of its life as a sportsbook rather than anything else, so it's a little more understandable that this is where its loyalty lies. However, its esports sector only contains four separate options for wagering on. These are available in the following:

Visit Site
Counter-Strike: Global Offensive
Bonuses and Promotions
While this platform's collection of esports may be quite small, perhaps it will make up for that with a good range of promotions?
Well, the answer to that would be a resounding yes…if you were playing in the poker room or at the casino.
However, when it comes to esports (and even the site's standard sportsbook), it remains as an arguable no. Alas, there is a 50% welcome bonus which exists for new players to enjoy. Simply complete your registration at Sportsbetting.ag, make your first deposit, and make sure that you input the bonus code of SB100 at the same time. This provides the bonus on top of your deposited funds, with a maximum value of $1,000 able to be claimed from this.
Don't worry too much if you're a regular player, either, because there are at least one or two ongoing promotions that will cater to you there as well. These are frequently changed throughout the seasons, meaning that you will at least get to benefit from a varied choice of such. Alas, the best thing to do in this respect is keep an eye on the inbox section of your email. Doing so will allow you to stay on top of the latest and greatest special offers from Sportsbetting.ag.
Deposit and Withdrawal Options
A section of the Sportsbetting.ag site that excels is the payment options that bettors can choose from. You see, there's a decent choice of these to ensure that you're not as limited when it comes to depositing and withdrawing.
Sticking with the modern-day side of things, members have the ability to make deposits via Bitcoin, and you can deposit up to $25,000 via this method. The same can be said for two other cryptocurrencies – Ethereum and Litecoin. If you prefer to stick with something traditional, then Visa and Mastercard deposits are also accepted, with maximum amounts of $5,000 able to be deposited by such methods.
You're also able to make use of a person to person deposit, with up to $600 able to be deposited this way. Money orders are also accepted, with a maximum of $9,000 being able to be deposited by using this method. Additionally, the Skrill e-wallet is usable, as is a bank wire transfer. Both of these options do not have maximum deposit amounts.
Finally, if you want to use a cashier's check, this is also possible for up to $15,000 deposits, while American Express deposits can be made up to $2,500.
When you want to make a withdrawal of your winnings, you can utilize most of the aforementioned methods, with the main exceptions being the three credit/debit cards. If you opt to use one of the three cryptocurrencies for withdrawing, you can take out a maximum of $10,000 per transaction.
A bank wire transfer allows you to withdraw up to $24,900, while a person to person withdrawal gives you the option of withdrawing up to $400. Finally, should you opt for a Skrill withdrawal, you can take out up to $9,900, while choosing the check express option allows you to take out a maximum of $2,500.
You can make a single free withdrawal per month, while any others done within the same month will cost you a total of $50 per transaction.
Mobile Compatibility and User Experience
You don't necessarily have to always be at home on a desktop computer when it comes to betting at this platform, either. You see, there is a mobile version of the platform for you to access via a smartphone or tablet. This requires you to simply input the website address into your device's browser.
The mobile version of the site does look somewhat different from the desktop version. However, it's very easy to use, featuring high-quality graphics and a simple navigation system. On the mobile version, you cannot view the esports section of the site without already having an account at the platform, though.
The overall experience of using the Sportsbetting.ag sportsbook is a fairly positive one on the whole. The site isn't complicated to navigate around, and the color scheme is very pleasing to the eyes. Even though it only contains a few esports options, it still provides you with a welcoming enough interface. Plus, you can move around to the different betting sections with ease. To add to this, the mobile version of the site is just as easy to use as the desktop, making it quite simple to place esports wagers while on the move.
Other Gambling Activities Available
As we spoke of earlier, the Sportsbetting.ag platform began its life by providing an online sportsbook back in 2003. This section of the site still exists today, so if you wish to place sports bets, then you can do so. There, you'll find the option to wager on sports events from sectors like hockey, tennis, basketball, football, and more. This also provides you with the option of placing wagers in its live betting section.
To add to this, there's the option of visiting the online casino of Sportsbetting.ag. There, you'll find games such as Reels of Wealth, Fire & Steel, Mr Vegas, Stampede, and American Roulette. It's also got a collection of live dealer games on hand for you to enjoy.
This online platform is also responsible for hosting a poker room, horse racing section, and a category for wagering on stock markets and other financial areas.
Is This a Good Site for Esports Bettors?
With regards to this platform, I would say that it has the potential to be something great for esports bettors. However, it is a bit of a let-down with the fact that it only contains four different esports for you to place wagers on.
And while these are good and popular esports, it's not enough to allow them to cater to a vast audience.
That being said, you do get the chance to benefit from having a wide range of payment methods to utilize for depositing and withdrawing. Not only that, but there are multiple other betting activities available at Sportsbetting.ag to participate in. Plus, with a mobile version of the site being available to access, you can still easily place bets while out of the house.
The lack of different esports is probably the biggest downfall of this site, although it also suffers from having a small group of promotions on hand. These don't specifically cater to the esports players, either, but to the general sports betting community. So, while it could make for a very appealing online platform for esports bettors, it still has some work to do in order to get to that prime position.