It's not automatically clear from the title of One Hash what this online site is about. So, allow us to explain it a little bit more for you.
Founded in 2014, One Hash is another online sportsbook which provides access to several esports betting options. However, it does have a difference from many other online sportsbooks. And this difference is the fact that it takes deposits in Bitcoin and allows bets to be placed by using the same cryptocurrency.
While some other sites do accept deposits in Bitcoin, One Hash exists as one of the few that works solely in the cryptocurrency. Therefore, you can't make deposits in Euros or US dollars, for example.
It's totally cryptocurrency-based.
Even though this is the case, it remains as a secure site, holding a gambling license from the jurisdiction of Curaçao. Additionally, One Hash works with mutual betting, meaning that a bettor chooses a side to place his bet on, while others place theirs. Every bet made influences the winning multiplier until the pool for it closes. Winners then split the pot proportionally to their contribution.
Pros
Very appealing website design with easy navigation
Appealing deposit bonus up to 1 BTC available
Platform available via mobile devices
Mutual betting system in place
No need to sign up for an account in order to place bets
Unique additional gambling activities
Cons
Bitcoin is the only currency that the site accepts
Limited range of esports available for betting on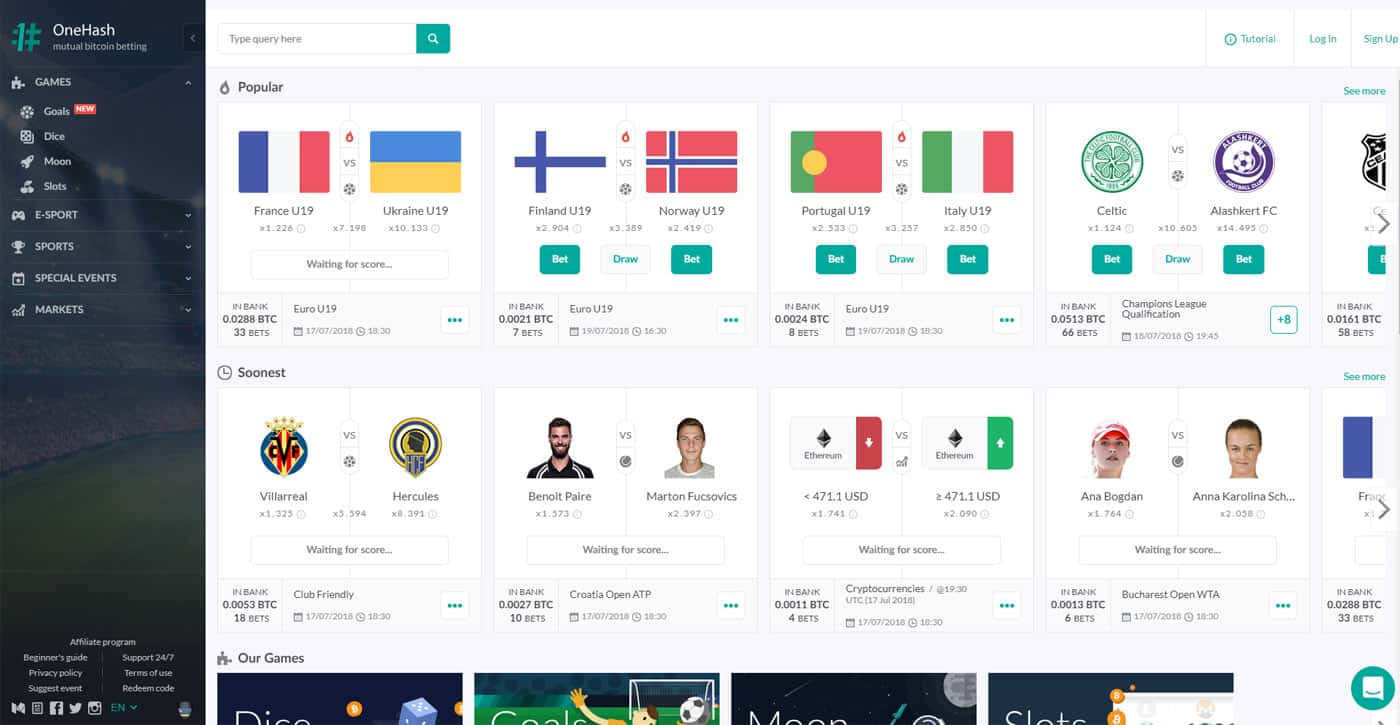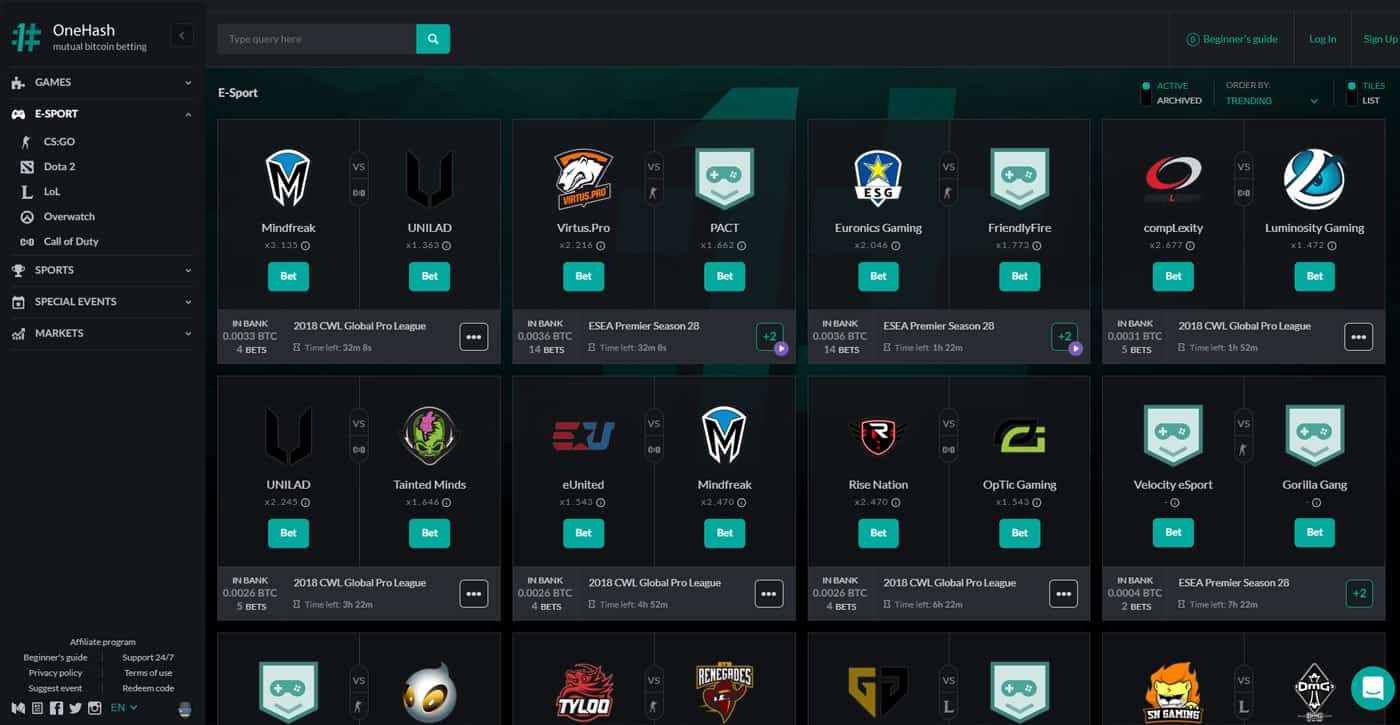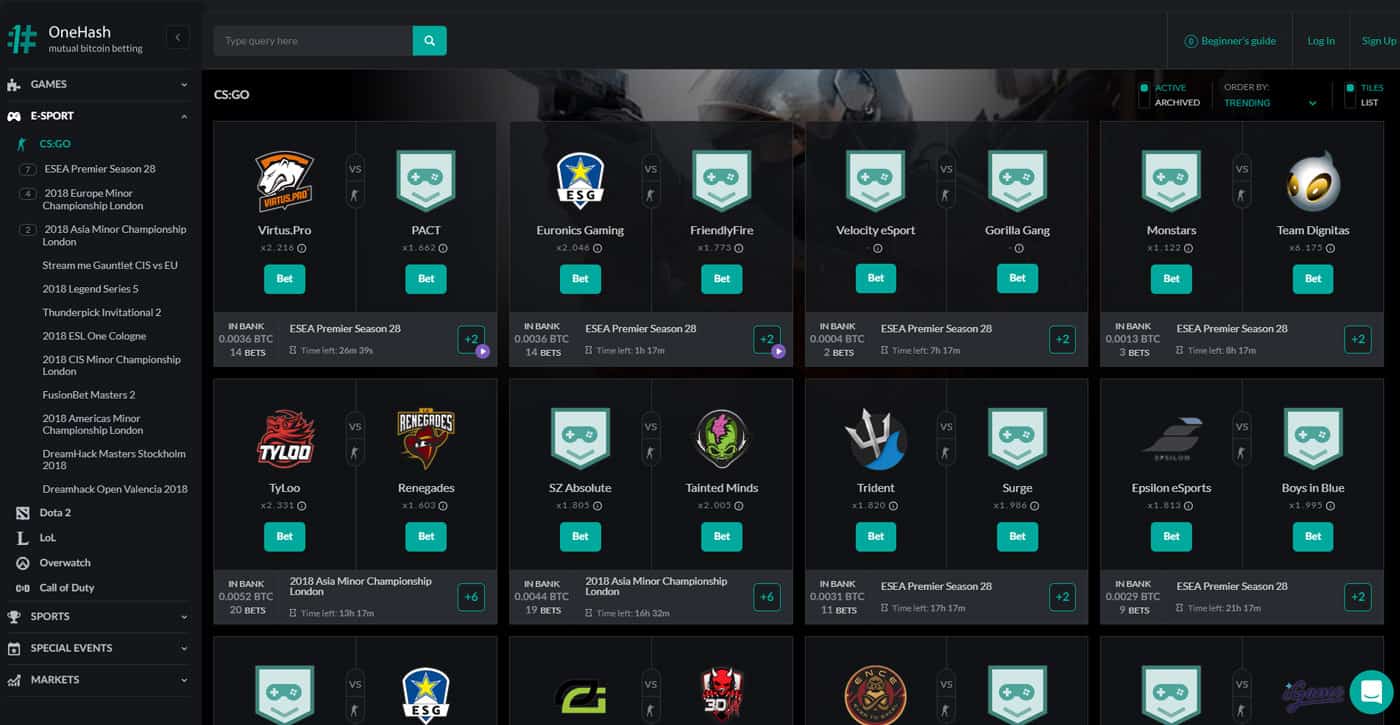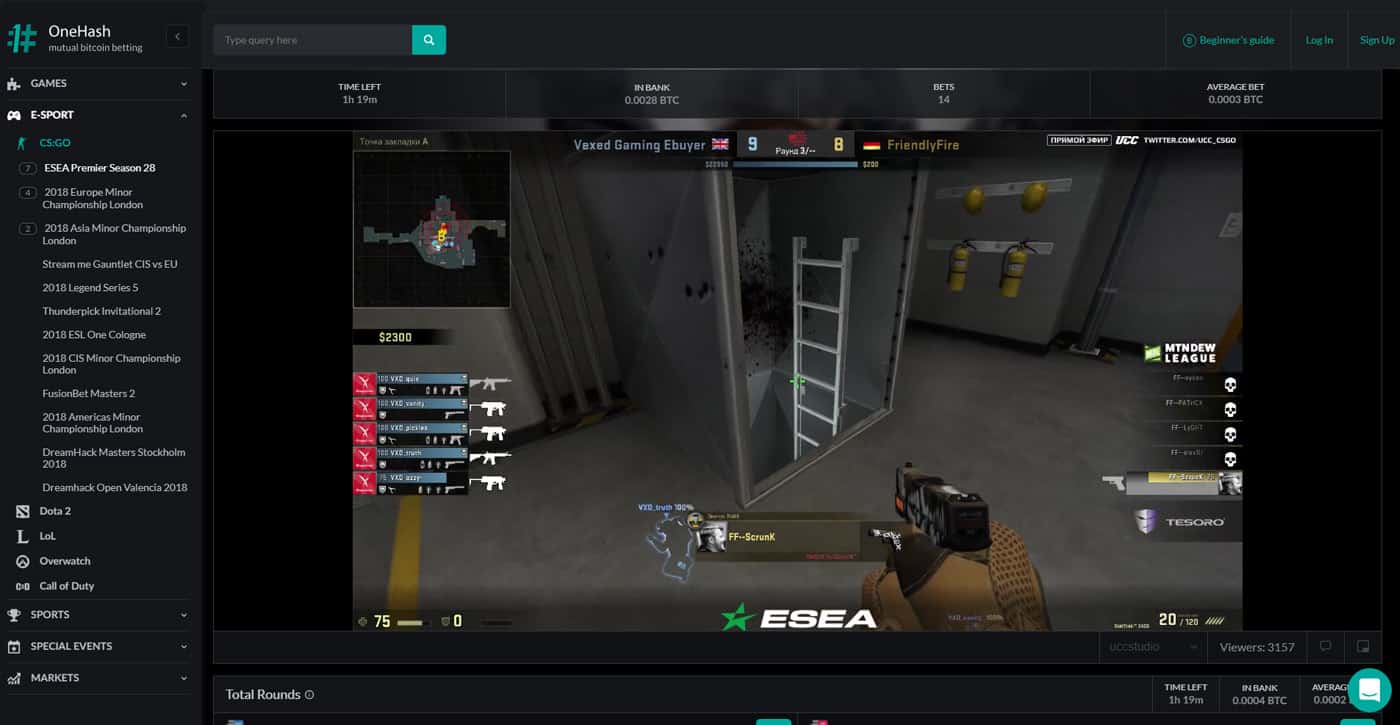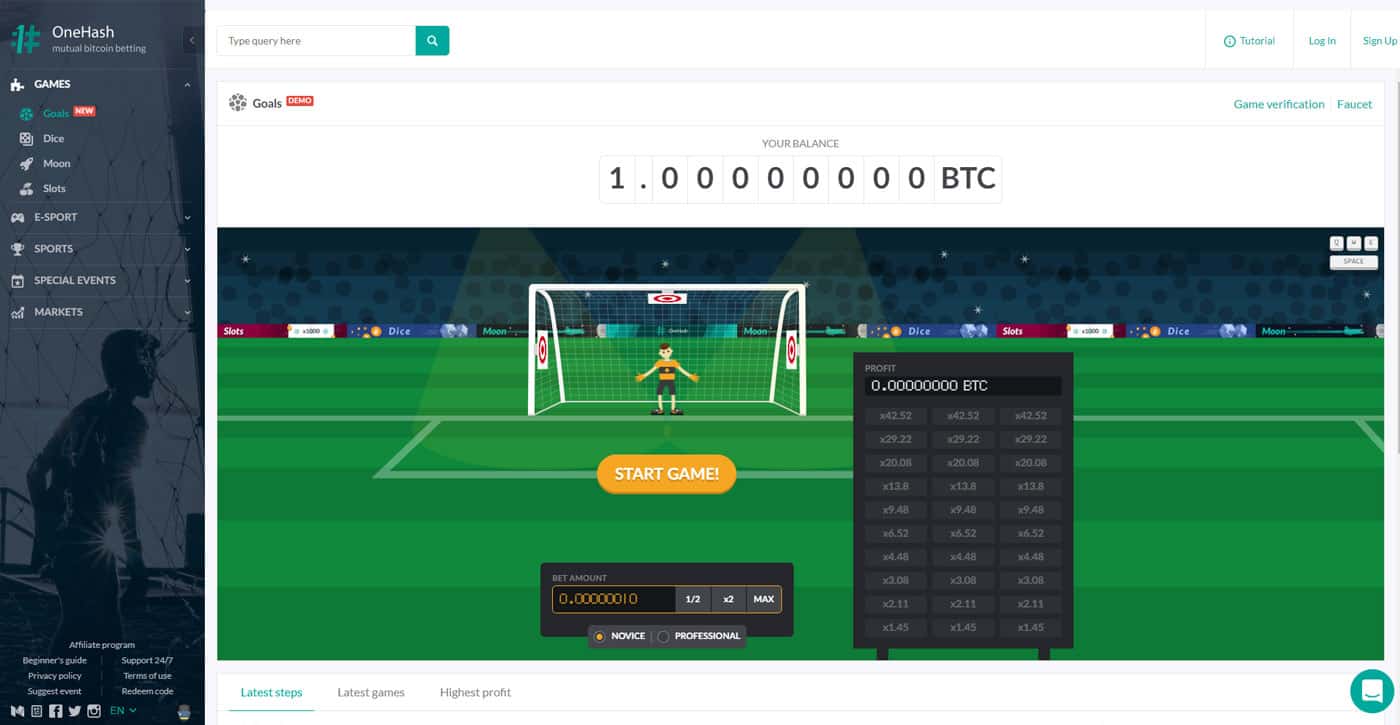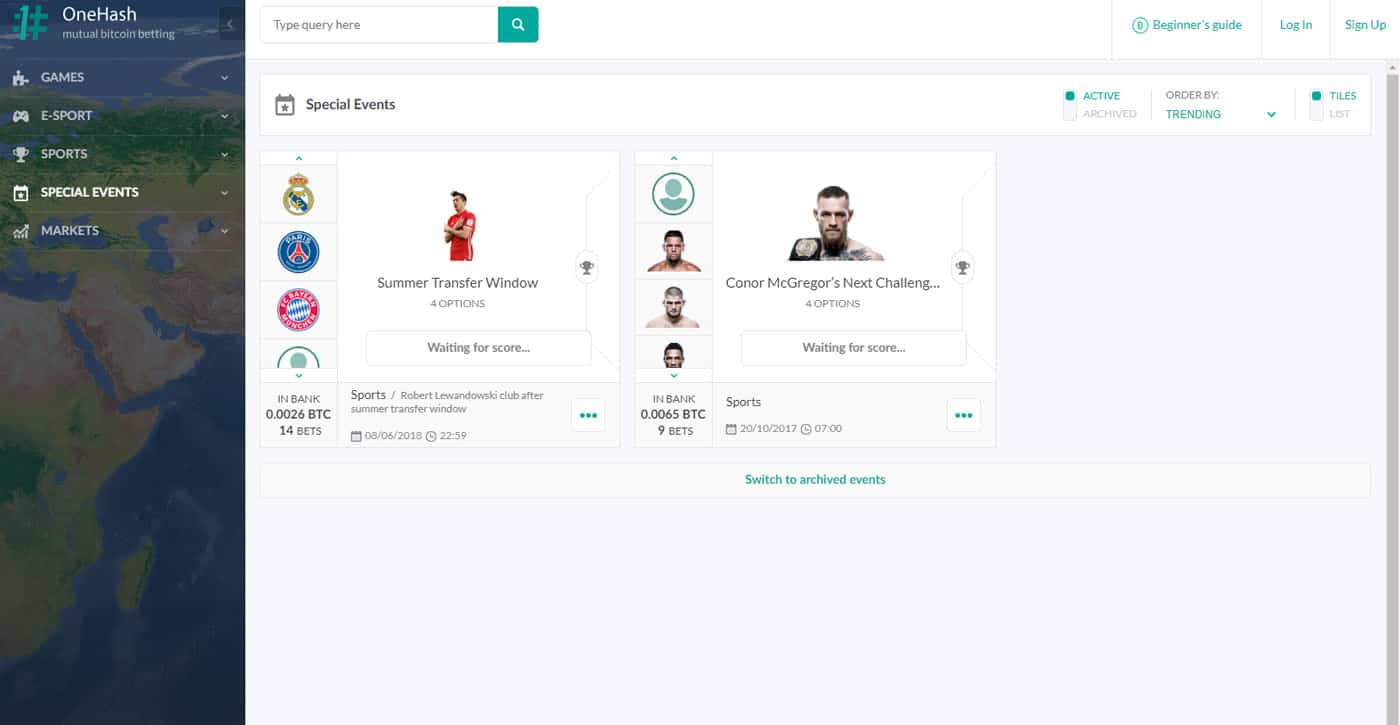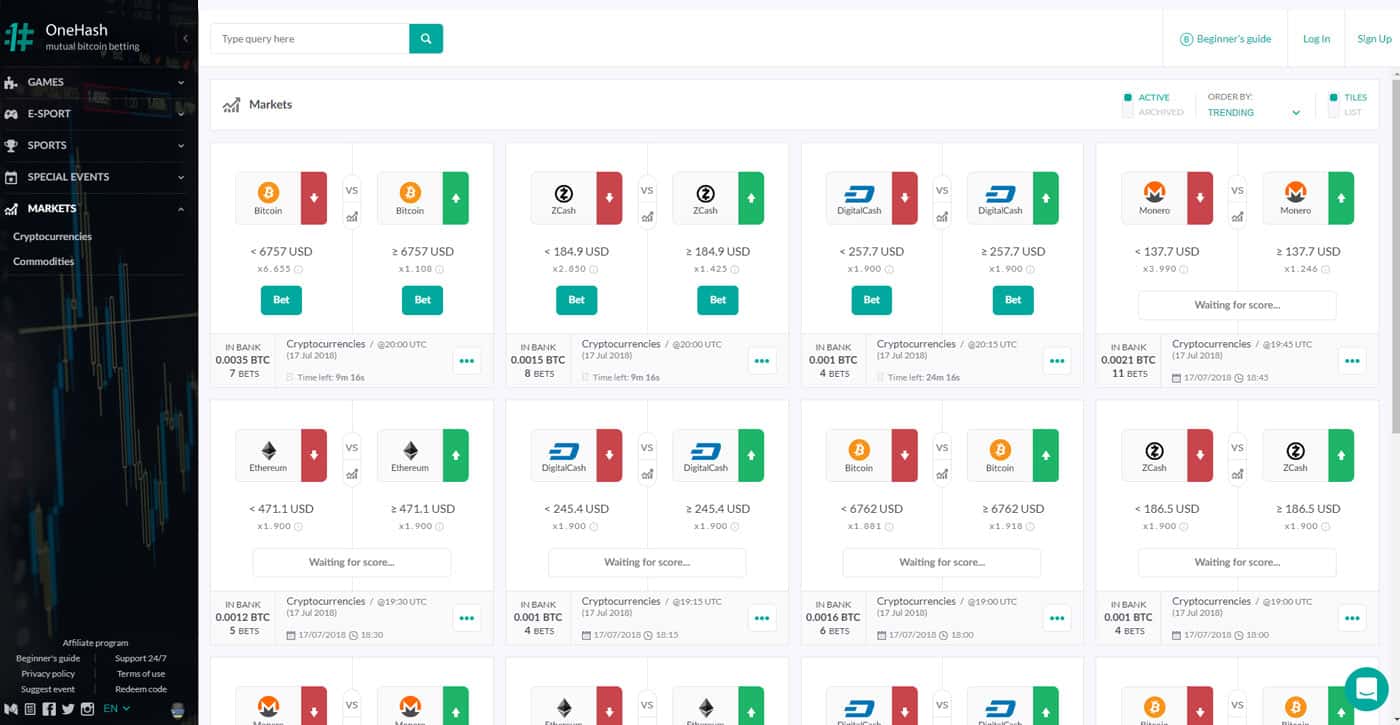 Esports Available to Bet On
The One Hash site does have a bit more of a focus on providing standard sports betting options to bettors. This is why, when it comes to esports, the platform only provides five possibilities.
That being said, these are some of the most popular in the genre, meaning that you'll still get access to some of the best. The menu for these options can be found down the left-hand side of the screen and allows you easy access to each of the five esports. These exist in the form of the following options:

Visit Site
Bonuses and Promotions
While some online sites opt to provide players with a barrage of special offers, One Hash keeps things quite a lot simpler. It doesn't have a mass of these available to players. Instead, there's just a deposit bonus for your Bitcoin transfer, as well as a bit of a Bitcoin stream for you to enjoy. So, minimal may be the idea at One Hash, but it still comes with its benefits.
As far as the deposit bonus is concerned, this would usually come alongside your first-time deposit at a platform. Once you sign up at the One Hash platform, you'll have a specific wallet for the platform, which is where the bonus funds will also go to.
However, it's also important to note that you don't specifically need an account to place bets at the site. You can alternatively navigate to a game and place a bet by using your Bitcoin wallet address. Both newcomers and current users have the option of claiming the deposit bonus on any of their deposits, although it is only available once.
This stands at 100% of the deposit that you make, with a maximum value of 1 BTC able to be claimed. This doesn't all occur at once, though. Instead, it is given in 10% increments until complete.
Deposit and Withdrawal Options
Because this platform works solely with Bitcoin, you'll need to own some of the cryptocurrency to be able to place bets at One Hash. One of the ways to place bets at the site is how I spoke of before – simply navigating to the esport that you want to bet on, and then entering the address of your Bitcoin wallet on your chosen option.
Alternatively, if you have signed up for a One Hash wallet, you can transfer Bitcoin funds into this and make a bet directly from your account wallet. Both of these ways are very simple to utilize, both for depositing and withdrawing.
As we said, though, Bitcoin is the sole currency that this platform works with, so you don't have the option of depositing and betting in fiat currencies. Deposits will be instant because of this, and the minimum bet that you can place stands at 0.0001 BTC. So, as long as this amount is available in your wallet, you can make wagers.
That being said, the One Hash wallet is only able to store a maximum amount of 1 BTC, so you cannot deposit more than this.
As far as withdrawals go, these are also fairly quick, due to the fact that cryptocurrency processes don't take as long as standard payment methods. The only issue is that the One Hash team does need to verify the withdrawal before it is completed.
So, while this is not an instant action, it shouldn't take too long to confirm. Withdrawals are sent back to the Bitcoin wallet that you either placed a bet directly from or deposited funds into your One Hash wallet from. You need to make a withdrawal of at least 0.005 BTC as a minimum.
On the whole, depositing and withdrawing at this site is a smooth process.
Mobile Compatibility and User Experience
The great thing about the One Hash site is that it's also very much accessible via a smartphone or tablet.
This means that mobile bettors have the ability to utilize the site as well. Simply enter the website address into your chosen device's web browser, and you'll see the optimized version of it clearly on display. This works very nicely for mobile devices, giving you the ability to easily place bets in this way.
The layout of the mobile version pretty much echoes that of the desktop site, although in a much more compact and user-friendly way for mobile devices.
Speaking of user-friendliness, the entirety of One Hash is very appealing. It uses very compatible colors, with a clean white shade creating the background of the main betting section. Meanwhile, a deep blue makes up the left-hand-side menu background. As far as esports go, everything turns darker, with a more dramatic effect in play.
It's very simple to navigate your way around the One Hash website, too, thanks to the simplicity of the menus on the left and the ease of the betting options on display for each game.
Other Gambling Activities Available
The One Hash website doesn't only provide possibilities for esports betting, but also for standard sports betting as well. This does work as a sort of central focal point for the platform, giving bettors access to possibilities for wagering on such sports events like American football, tennis, combat sports, cricket, and rugby, to name a few. What's more, there's also a live betting section at the site for you to access, giving you the chance to place even more additional bets.
The live section plays host to four sub-sections – "Moon," "Dice," "Slots," and "Markets." Moon basically provides a game to you where you board a rocket and multiply your Bitcoin there. This makes for a super interactive offering.
The dice option gives you the chance to challenge yourself, rather than other bettors at the site. Slots do provide a bit more of a casino-like experience, but in a unique One Hash way.
Meanwhile, the markets area allows you to wager on different cryptocurrencies, commodities, forex, and stock exchange options.
Is This a Good Site for Esports Bettors?
One Hash certainly provides a unique and intriguing way of betting on esports. The fact that it utilizes Bitcoin as its sole currency means that it can provide a safer and cheaper option for you to involve yourself with.
Not only that, but One Hash provides mutual betting as well, which is free from corporate gambling machines and algorithms. In this instance, the betting is completely between human bettors, meaning that odds are not fixed by any computer system. Instead, the odds are completely worked out depending upon the bets that humans place.
And with the addition of mobile betting as a possibility, bettors can place mutual bets from wherever they are. The deposit and withdrawal procedures are very quick and allow you to easily transfer Bitcoin funds between the site and your wallet.
Everything is laid out in a very simple and easy-to-use way, so you can find the esports and other gambling activities swiftly.
It's also nice to see an appealing deposit bonus to benefit from, even though the platform doesn't provide a huge range of esports to wager on.