Nitrogen isn't exactly a word that we think of when we're wondering about an esports platform. Nitrogen usually resembles a cold liquid that certainly wouldn't do you any good. Fortunately, the exact opposite is true of the Nitrogen Esports platform, where you certainly won't be left cold by the options available.
The platform itself is based within Costa Rica, which is where it also holds a gambling license from. This does ensure that it's a secure and fair site to join. That being said, it does have a much larger focus on providing betting options for standard sports events, rather than specifically for esports. Instead, the esports offerings make up a section of the entire sports betting platform. This isn't especially a bad thing, as there are still some great options available to you as an esports bettor.
Pros
Decent choice of esports available to bet on amongst the huge range of sports
Friendly and helpful customer support options available
Easy-to-use and well-designed sportsbook platform
Mobile compatible via web browser
Bitcoin-friendly sports betting site
Cons
No other depositing methods apart from Bitcoin
No welcome bonus or special offers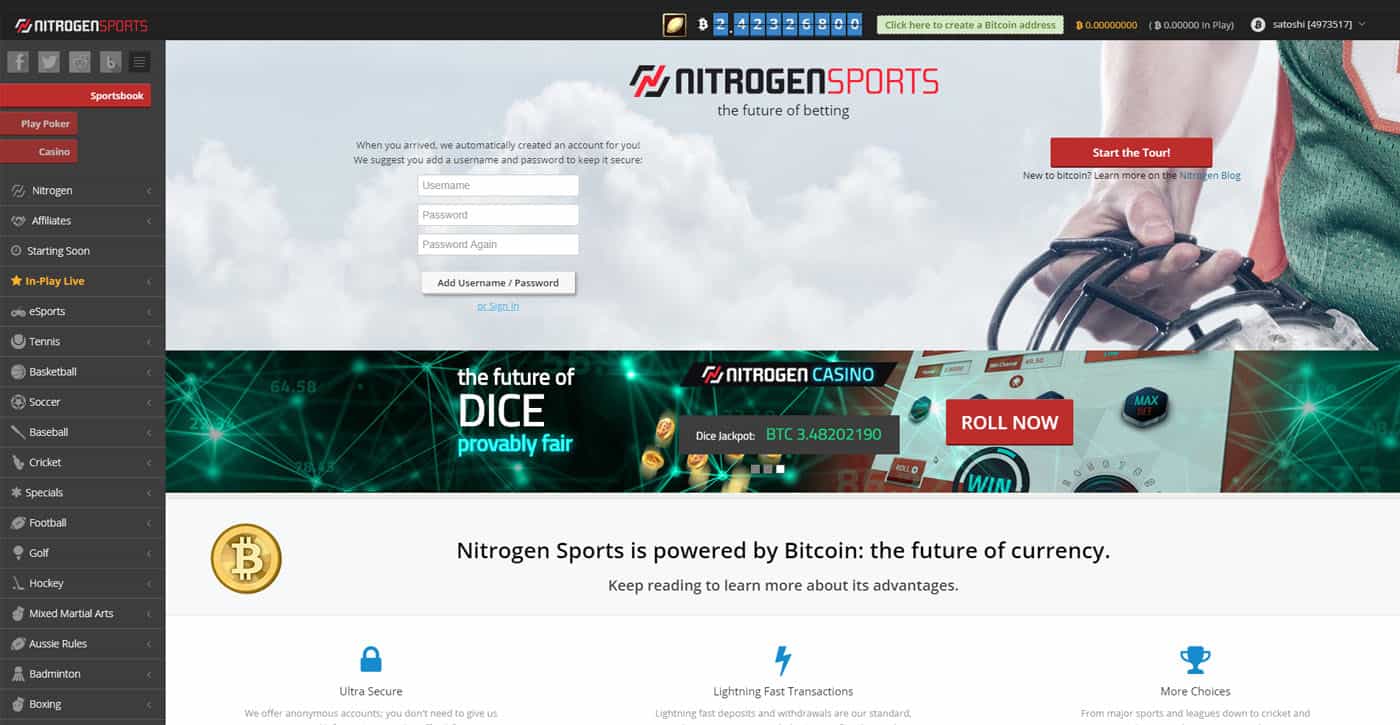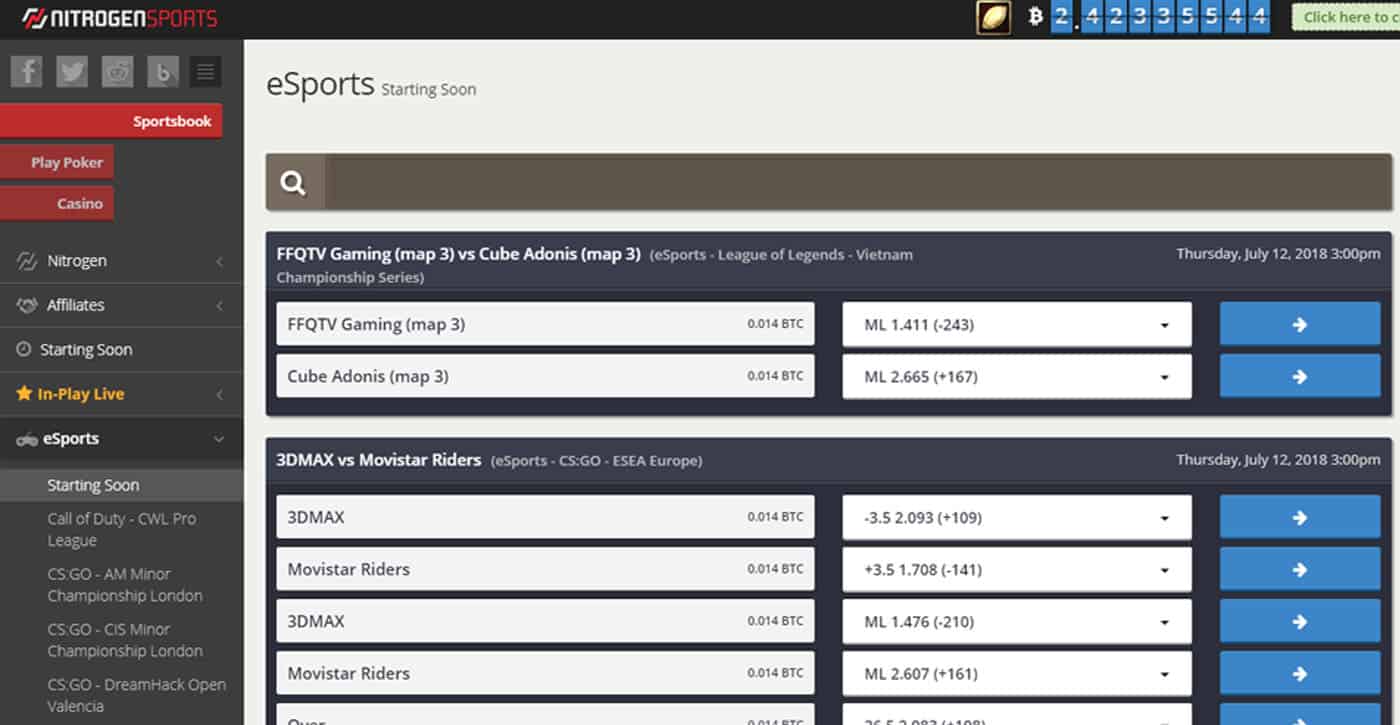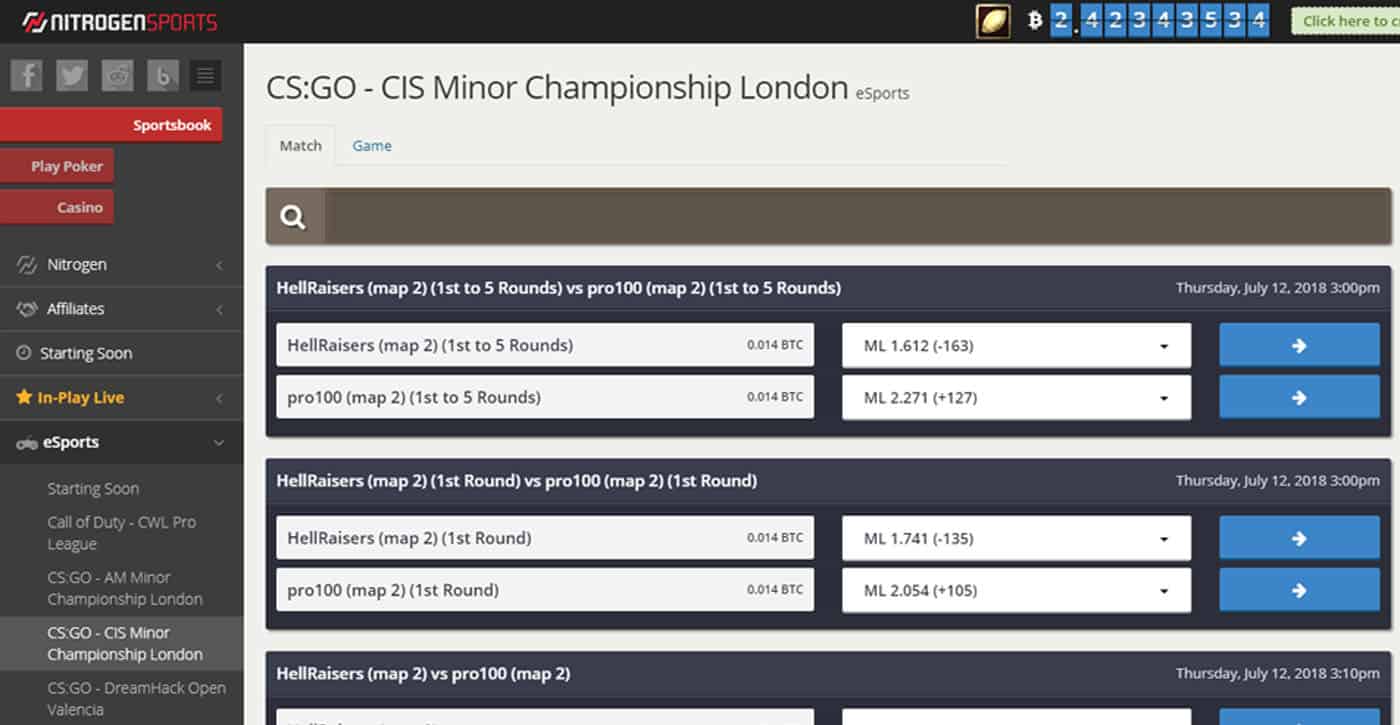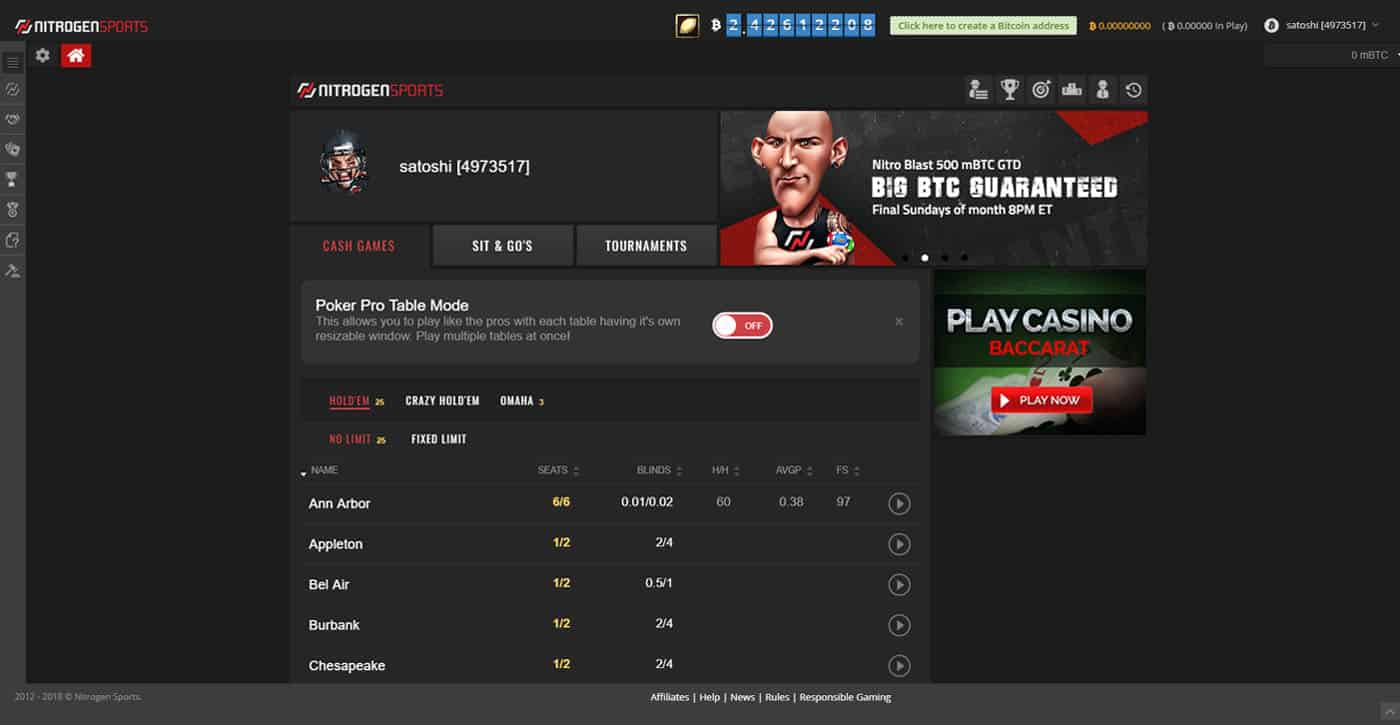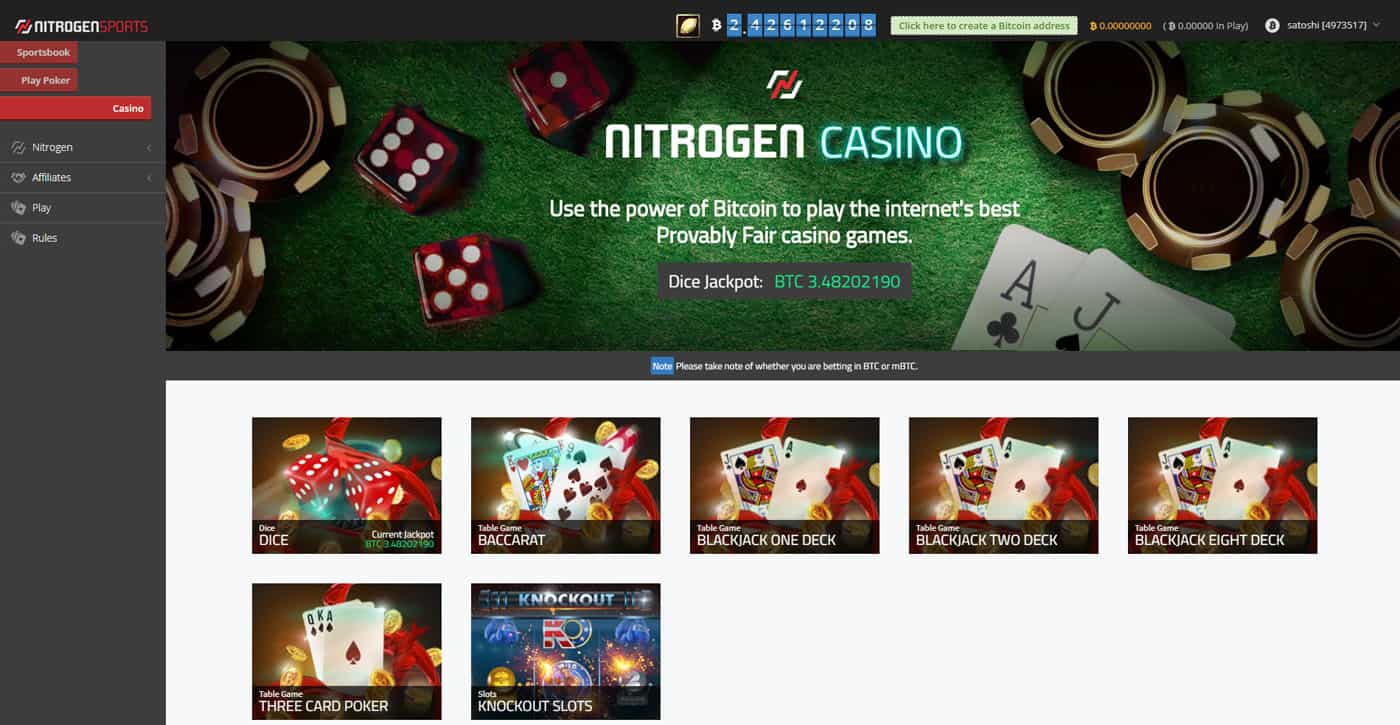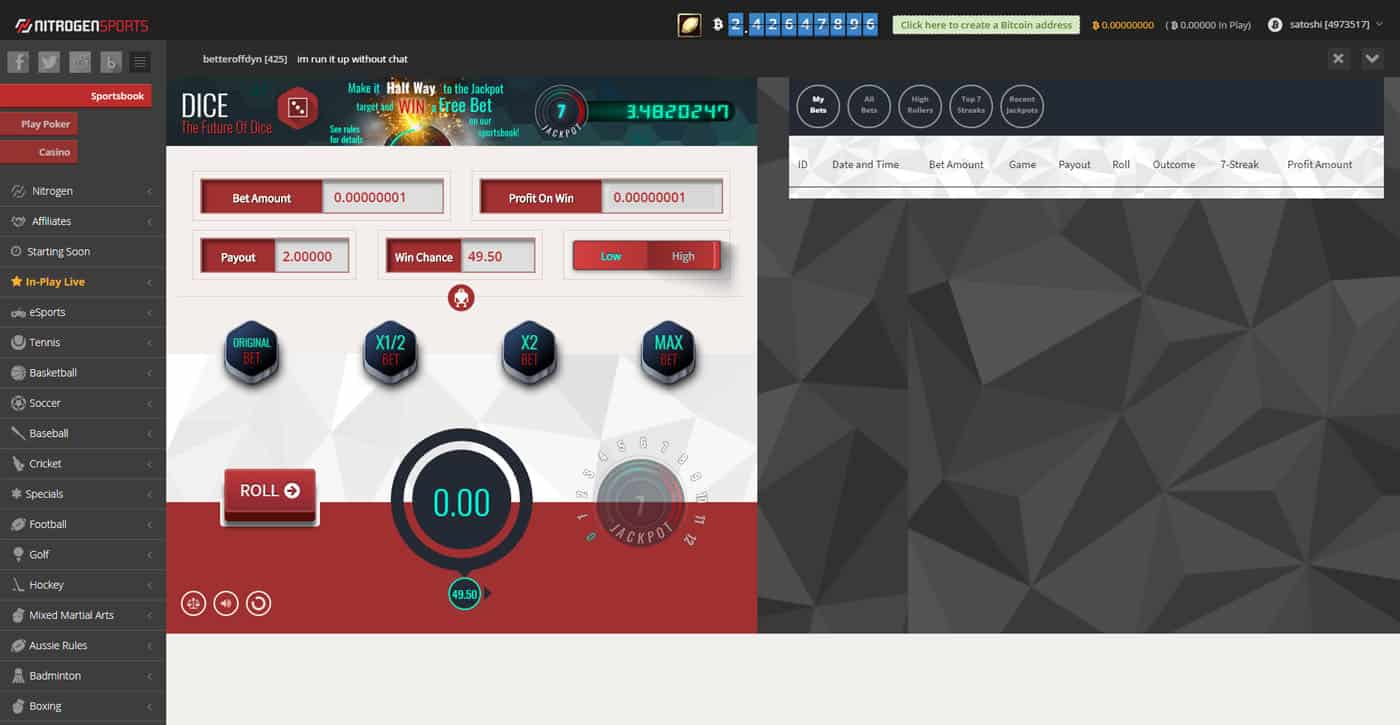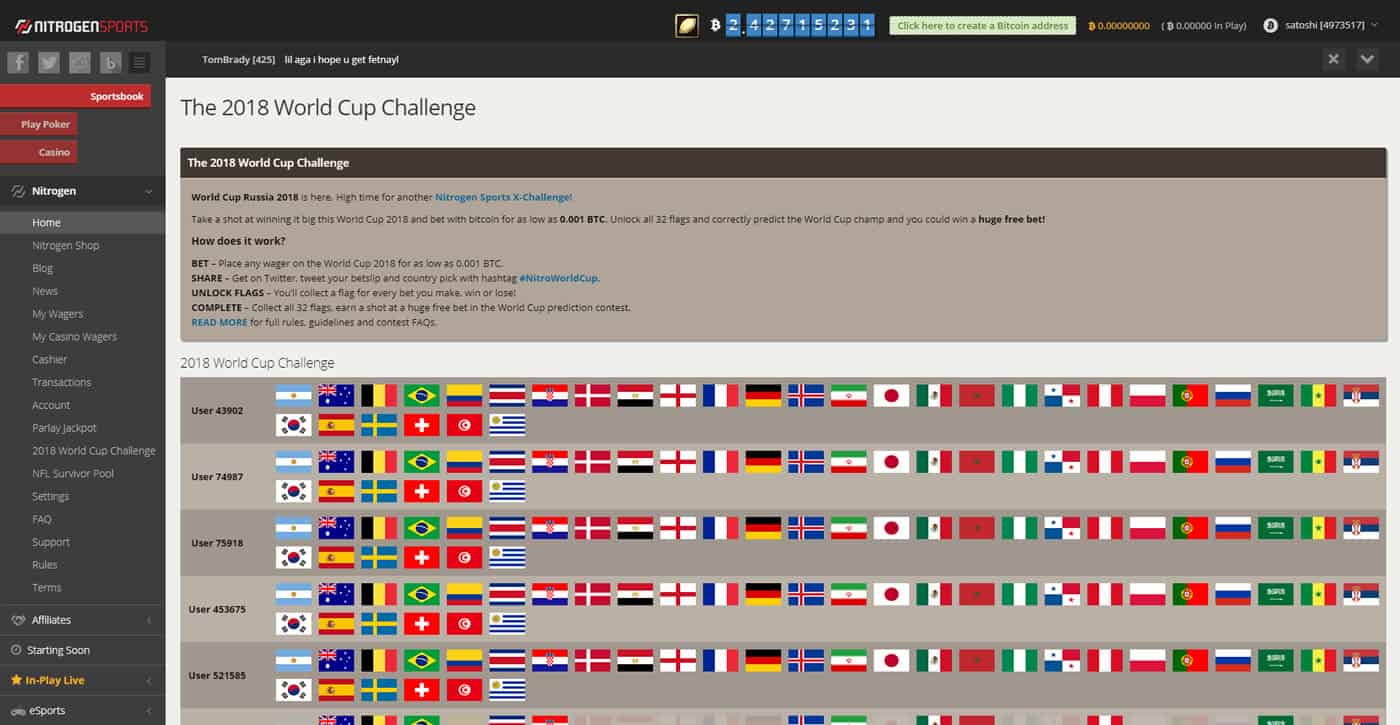 Esports Available to Bet On
Because Nitrogen is mainly a standard sports betting website, it doesn't really have a huge focus on the esports sector. That being said, while you will get the chance to place wagers on masses of football or tennis games, esports are a bit of a minority at Nitrogen. Yet the range of esports that do exist at this site are some of the best and most popular in the world. Plus, they come with competitive odds, so you'll get a great offer when it comes to betting on such. The esports that are available for wagering on at Nitrogen are:

Visit Site
Fortnite
Heroes of the Storm
League of Legends
Overwatch
Bonuses and Promotions
It's fairly common for online platforms to provide players with special offers. However, this isn't something that Nitrogen Esports involves itself in too heavily. For example, there isn't any kind of welcome offer for bettors to claim once they sign up and make their first deposit. This does make the site a little different from several others, which do provide newcomers with a bonus on deposit or a free bet after making their first wager. However, if you think that there's nothing to sign up and play for at Nitrogen, you couldn't be more wrong.
Each month, there is a parlay jackpot available at the site, which gives away roughly 4,000 mBTC bonuses to the players who come out with the top 21 highest parlay payouts. Not only that, but various tournaments will take place that you can participate in, as well as competitions and promotions that surround large sporting events. While these don't specifically have many ties to the esports world, they can help to boost your account balance if you participate in them and win.
Deposit and Withdrawal Options
Adding funds to your Nitrogen Esports account is easy to do, simply because it doesn't work with any other currency than Bitcoin. Therefore, you'll need to own some of the cryptocurrency to participate in betting at this site. However, if you do, then making a transfer and placing wagers on the different esports is simple. As long as you have the address to your Bitcoin wallet, making a deposit is something that you should be quite familiar with already. If you don't possess one of these, then Nitrogen will take you through getting one step by step. It's that simple. Deposit in Bitcoin to your account and begin making your wagers on your chosen esports. All transactions are free of charge, so you don't have to pay any fees for a deposit.
When it comes to making a withdrawal, again, the only option that is open to you is to make a Bitcoin withdrawal. This works quite speedily, with transactions usually processing through within 10 minutes or so. However, on occasions, it can take up to 24 hours for Bitcoin withdrawals to complete. You'll be able to make one free withdrawal every six days at Nitrogen. If you opt to withdraw any additional times before this period is over, you will pay a fee of 0.1 mBTC per withdrawal. All in all, though, the withdrawal process is a very smooth and seamless experience.
Mobile Compatibility and User Experience
Another perk of playing at Nitrogen is that you're able to access the platform via a mobile device. Therefore, if you posses a smartphone or a tablet, you can simply enter the website address into your device's browser and load up the optimized version. It's got all of the same features as the desktop version, providing the same esports for betting on and the same color scheme. It just shows up in a more compact way to suit your handheld device. So, if you want to be a bettor who places wagers while out of the house, the mobile version of Nitrogen is right up your alley.
The overall user experience of Nitrogen Esports is highly appealing. There's a very easy-to-use navigation menu on display down the left-hand side of the screen, while the different sports show up in the center of the page for you. Bets are easily placed by pressing on the blue arrow button, which sends them to your bet slip, and you're allowed to enter the number of Bitcoins you'd like to wager on the event. Nitrogen incorporates a red, grey, and white scheme into its layout, ensuring that there's a visually appealing design on display for you to see. The esports are easy to find as well, as they're one of the first links on the left-hand side menu. The events are then on display when you click the esports link. Ease of use is something that Nitrogen has considered when creating its layout, meaning that you're able to move around from one place to the next without any problems.
Other Gambling Activities Available
Nitrogen isn't only about esports. Far from it. The esports make up a part of the grander sports betting section of the website. This means that as a bettor there, you can also make wagers on various standard sports events, including baseball, cricket, tennis, golf, and boxing. These are all easily found underneath the esports link on the aforementioned left-hand side menu.
And if you want to take a break from placing wagers on esports or standard sports, you can navigate across to the casino or poker room. The former of these will give you access to several table games, including baccarat, blackjack, and three card poker. There's also the inclusion of something known as Knockout Slots as well as the game of Dice. As far as the poker room is concerned, this incorporates multiple different variations of online poker games for you to participate in. So, the available alternatives to sports betting provide a truly inviting experience.
Is This a Good Site for Esports Bettors?
As an overall opinion, the Nitrogen Esports site is a great one for accessing and signing up to for esports betting. While it may not have as big a collection of esports to wager on as several other sites, it maintains the most popular and highest-profile games. Plus, they're easy to find on as user-friendly a platform as this one. It's also great that you get the chance to place bets while you're out of the house and moving around, thanks to the mobile compatibility of Nitrogen.
Of course, it exists solely as a Bitcoin platform, so those people who don't possess the cryptocurrency and don't intend to work with it won't be able to participate in esports betting at Nitrogen. However, the process of claiming Bitcoin and using your wallet to fund your Nitrogen account is very easy.
Withdrawals are also quite fast, thanks to the fact that it's a cryptocurrency site, rather than one that utilizes standard payment methods. It's also great that there are some alternative gambling options on hand. Sports betting is obviously a prime focus for Nitrogen, although the addition of a few casino and poker games makes it more appealing. It's a bit of a let-down that there isn't the inclusion of a welcome offer or anything particularly exciting in this form. However, you'll still be able to access tournaments and competitions, and the customer support team that is on hand is always very helpful, too.