If you're ready for a bit of a new experience when it comes to esports betting, then perhaps CSGO Lounge is exactly the site for you. Giving players of the game the possibility to trade items (or skins) looted from within, these skins are what hold all of the keys towards bettors being able to participate in esports wagering.
The esports section available there now is a sector that only came to the CSGO Lounge platform in late 2016, so it remains as a relatively new and revamped addition to the site. Separated into two halves, the esports betting platform on one side and the trading section on the other, CSGO Lounge is able to provide an altogether alternative thrill to gamblers.
As it stands, all esports wagering at this site now takes place with virtual coins, rather than actual money.
This works in stark contrast to most other esports betting platforms. However, while it may seem uninviting if you're a real-money gambler, don't pass on CSGO Lounge just yet. It has plenty to offer up to avid bettors and skin traders, giving you the chance to utilize virtual coins to continue trading or to experience the esports betting section of its site.
What's more, skins trading is a simple process at CSGO Lounge, with coins from such remaining in your Steam account for you to use as you wish.
Pros
Well-designed website, featuring easy-to-use functions and navigation
Highly-appealing skin trading for virtual coins
Mobile-friendly for those players who like betting on the move
Unique interface and alternative way to experience esports betting
Cons
Not for fans of real-money esports wagering
Only the possibility of placing esports wagers on CS:GO events
No promotions or bonus offers available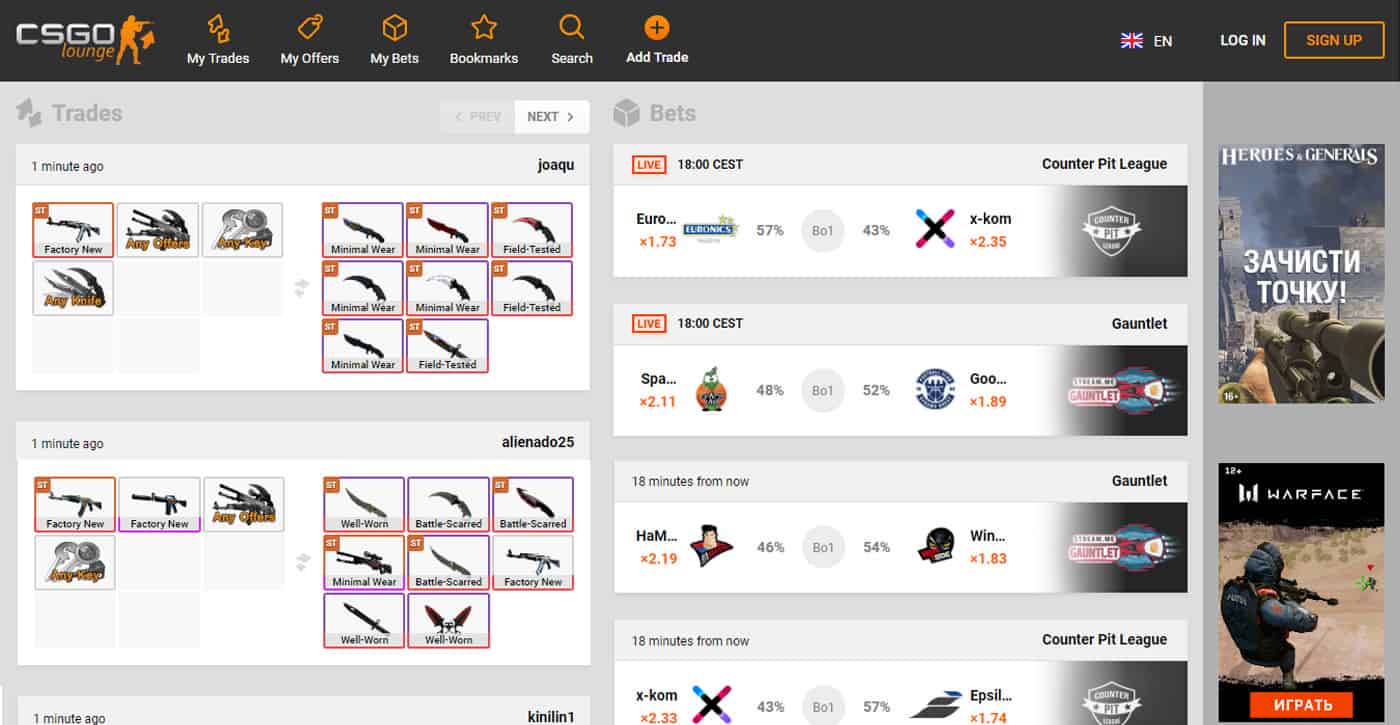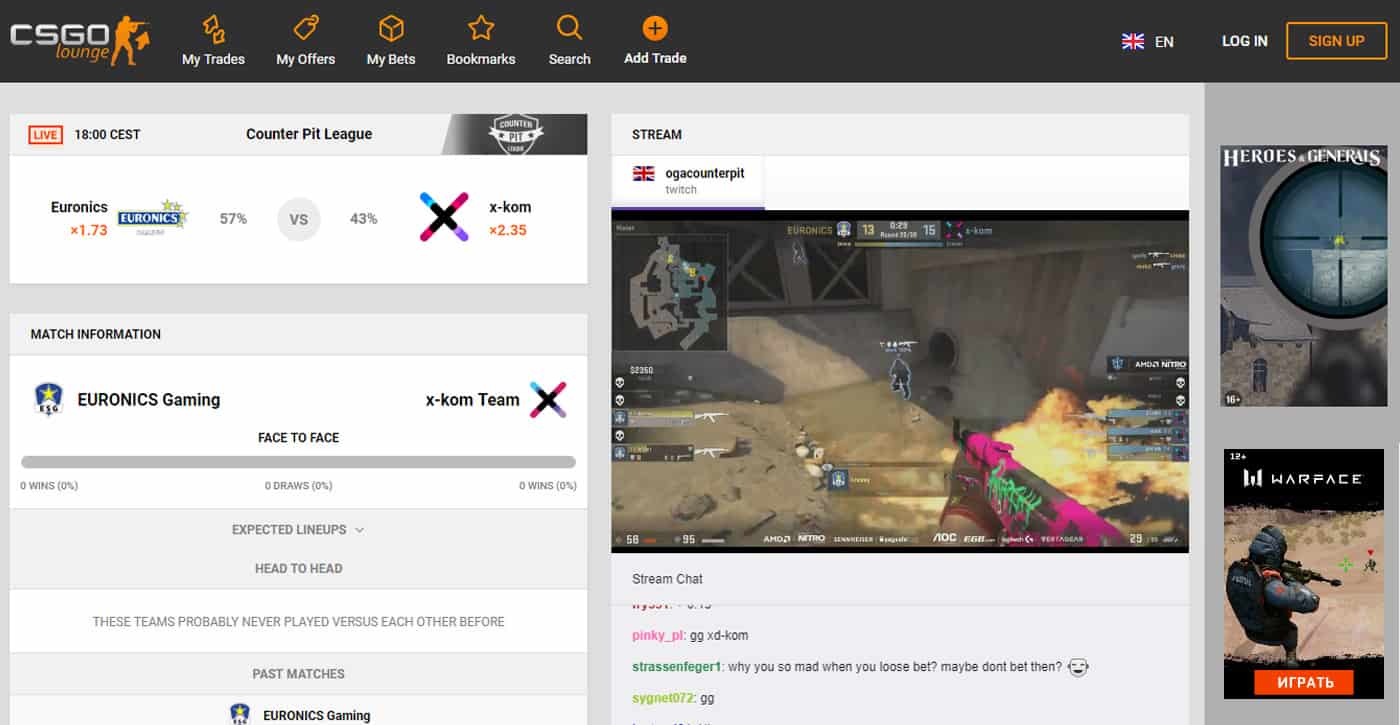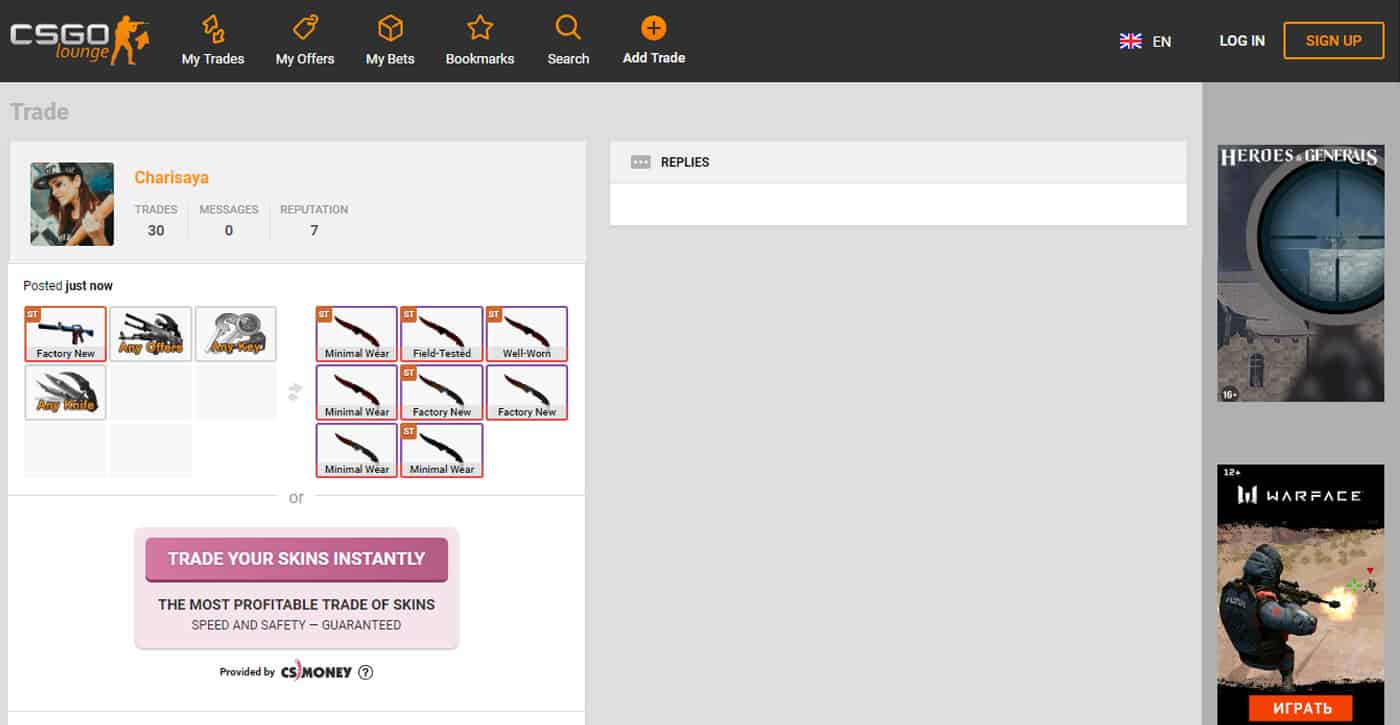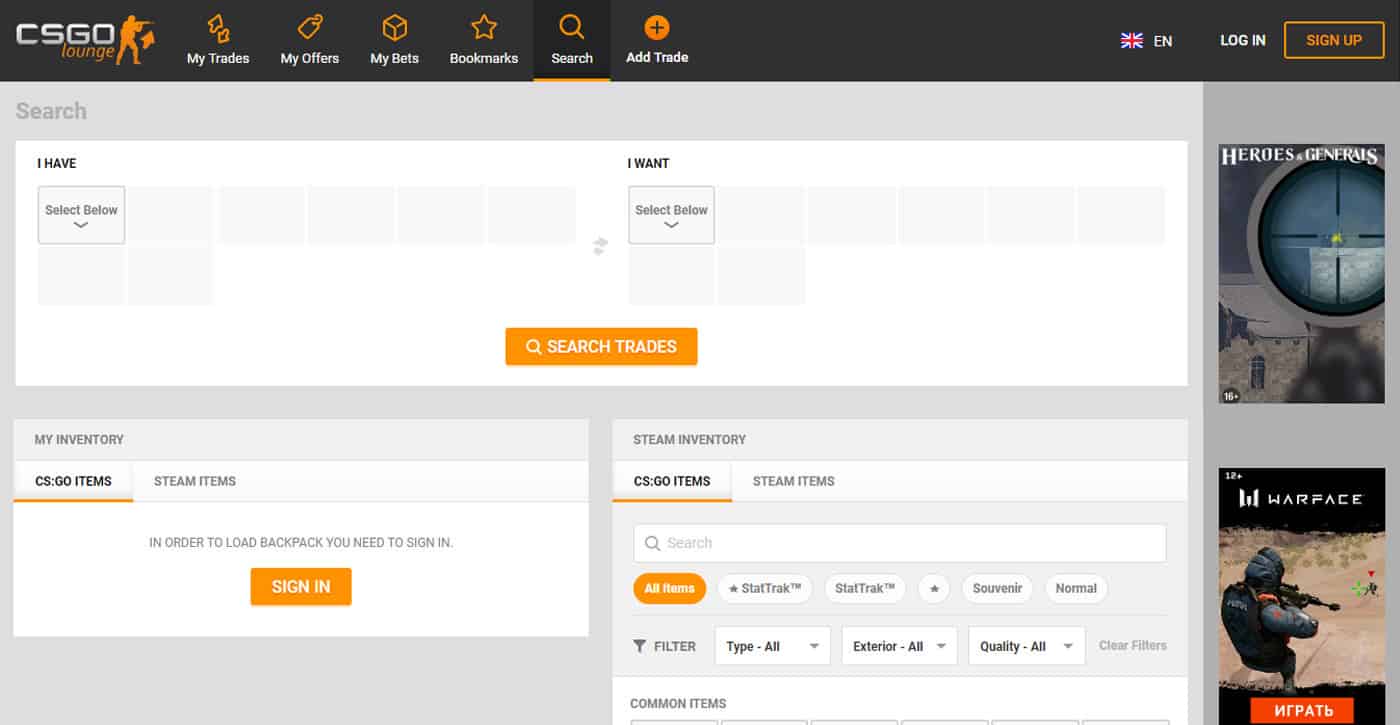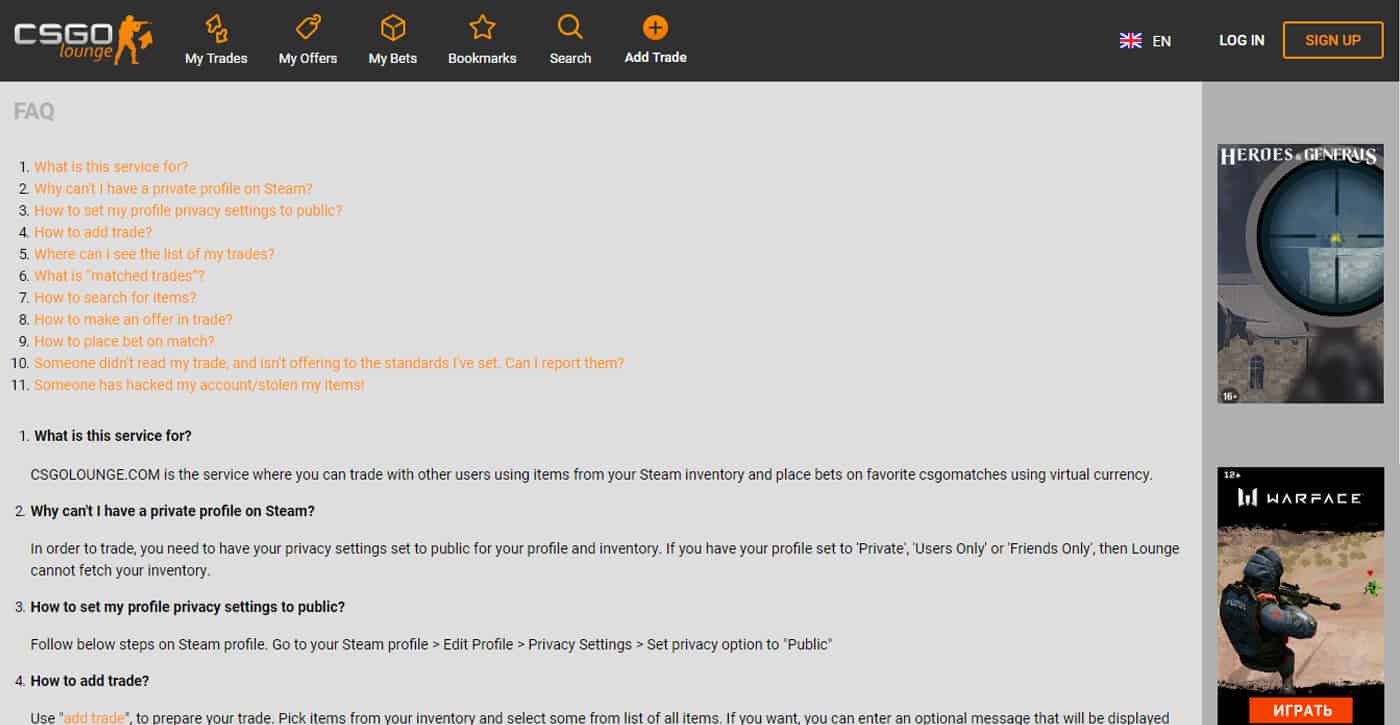 Esports Available to Bet On
CS:GO esports betting takes prime position at this site – and why not? It's one of the biggest games around today. Even though this is the only game that you can place esports bets on at this site, there are multiple events to participate in. The platform is entirely dedicated to providing CS:GO options, both in terms of trading and esports betting. As an avid fan of playing the game, this is sure to appeal to you. This being the case, the only esport that you have the potential for wagering on at this site is:

Visit Site
Counter-Strike: Global Offensive
Bonuses and Promotions
Because the platform works primarily as a trading offering, it doesn't really provide players with the option of receiving any sort of promotions. This isn't specifically something that has been put in place due to the fact that it has a prime focus on trading options. Yet CSGO remains as a popular location for esports betting, even without a mass of promotions. A great deal of thanks for this is also down to the fact that trading skins is a possibility.
You will be the recipient of 100 free coins upon becoming a member of the site. These remain as virtual currency but do give you the opportunity to get your first taste of the esports betting options. Or, if you wish, you can put them towards purchasing other skins from the marketplace. In this respect, with a higher number of coins, you're able to purchase rarer skins.
Therefore, CSGO Lounge doesn't work in the same way as many other online esports betting sites that often provide welcome bonuses or free bet promotions. Of course, when you've got the ability to participate in trading skins, these can often provide big boosts to your balance anyway.
Deposit and Withdrawal Options
The deposit and withdrawal options of a standard esports betting site usually see them offering up credit cards, e-wallets, and other payment methods. Due to the fact that you don't actually need to make a deposit of real money into your CSGO Lounge account, though, this isn't something that pertains to the site.
All wagers are placed with virtual coins, so it's not necessary for users to actually deposit anything. Instead of transferring money from a card or bank account, you essentially sell skins in the CSGO Lounge marketplace and receive virtual coins for doing so. Therefore, it's not really a deposit transaction, but instead, you reap the rewards of trading your items. The coins will appear in your account instantly, so you can continue on with purchasing better skins or placing esports bets as you like.
In the same way, there isn't a "withdrawal process" to speak of at this platform. Virtual currency cannot be withdrawn, but you still get to use it to the best of its advantages. With hundreds and thousands of skins available to purchase in the marketplace and various options to select from in the esports betting section, your virtual coins are the key to you potentially improving your CS:GO gameplay or further increasing your balance through betting on the events.
Mobile Compatibility and User Experience
If you have a particular fondness for using mobile devices to access your favorite betting websites, then CSGO Lounge can cater to you in this respect. It's been quite a consistent feature with the site, meaning that you can navigate to the website from a smartphone or tablet easily. Just enter the website address into your device's browser, and you'll automatically see the mobile-optimized version of it on your screen.
This means that you will be able to see an inviting version of CSGO Lounge on your mobile device. Your log-in details are the same, and the betting options remain the same as well.
As far as the overall design of the website goes, it can be said that it's easy enough to navigate around. It has a charcoal and orange color scheme, which is quite pleasing to the eyes. Menu links can be found across the top of the website, directly next to the CSGO logo.
The trading options can be seen down the left-hand side of the page, while the esports offerings are available on the right-hand side. Clicking on one of the esports options will provide you with the odds and possibilities for the event. Even though CSGO Lounge takes a different route to standard esports betting platforms, it's still a user-friendly site and comes complete with easy-to-use functions.
Other Gambling Activities Available
While trading may not particularly be considered a gambling activity, it does go hand-in-hand with the esports betting section of CSGO Lounge. Without trading, you wouldn't be able to amass the virtual coins to be able to participate in esports betting at this site. Therefore, esports betting comes as a sort of addition to the option of skin trading. In this respect, trading plays an important role in allowing members of the site to be able to indulge in betting on CS:GO events.
Real-money gambling was a possibility at the platform prior to 2016, but with the increase of gamers looking to trade skins from the game, CSGO Lounge revamped itself to what it remains as today. So, while alternative gambling options aren't a possibility, there's little doubt that as an avid skin trader, you'll get to experience plenty of thrills from the marketplace and esports betting possibilities at this site.
Is This a Good Site for Esports Bettors?
While some people may not enjoy placing bets that they can't win real money from, there is still a huge audience out there who likes to participate in what CSGO Lounge has to offer. Skin trading that leads to the possibility of placing esports bets for virtual coins, which can then lead to the potential of being able to buy higher-grade skins from the marketplace, is highly appealing. Furthermore, one thing that you don't need to worry about with this site is whether or not your real money will be safe, because you're not dealing with real money. There's also no need to spend days waiting for a withdrawal to complete, because once you have won an esports bet, your coins are there for you to use. For a virtual esports betting experience, CSGO Lounge stacks up as being quite a perfect location.
The 100 free coins on your arrival make for an intriguing welcome to the site, too, giving you the chance to potentially place a few esports wagers and experience how it all works. And should you also have the desire to participate in both trading and esports wagering while on the move, the mobile version of the site will cater nicely to you. Overall, if trading and having fun with esports betting is what you like, then CSGO Lounge stands as being a very appropriate place to do this.