Betting on esports is still relatively new, so you don't have as many sites to choose from in this space as you would if you were interested in betting on the NFL or playing poker.
This doesn't mean that you don't still have multiple sites to choose from, though. In fact, you have enough sites to choose from that you'll need to use some discernment when selecting one.
In fact, some sites—Arcane Bet included—limit who is allowed to play there by their country of origin. For example, if you're betting from Bulgaria, Hong Kong, the United Kingdom, or the United States, Arcane Bet is the wrong site for you.
On the other hand, if you're from any of the other 200 or so countries in the world, Arcane Bet welcomes your business.
Even so, you want to be sure the company you're dealing with is legitimate and trustworthy. You need to know that when it comes time to withdraw your winnings, the company in question won't give you a hard time or delay your requests.
Luckily, Arcane Bet is a trustworthy place where you can bet on esports with confidence.
Pros
Reasonably wide variety of esports available to bet on
Focuses on what they do best—esports betting
Offers casino games
User-friendly website interface
Mobile friendly
No app required
Cons
Doesn't accept bettors from Bulgaria, Hong Kong, the UK, or the USA
Limited number of additional offerings besides esports betting
Some menu items go nowhere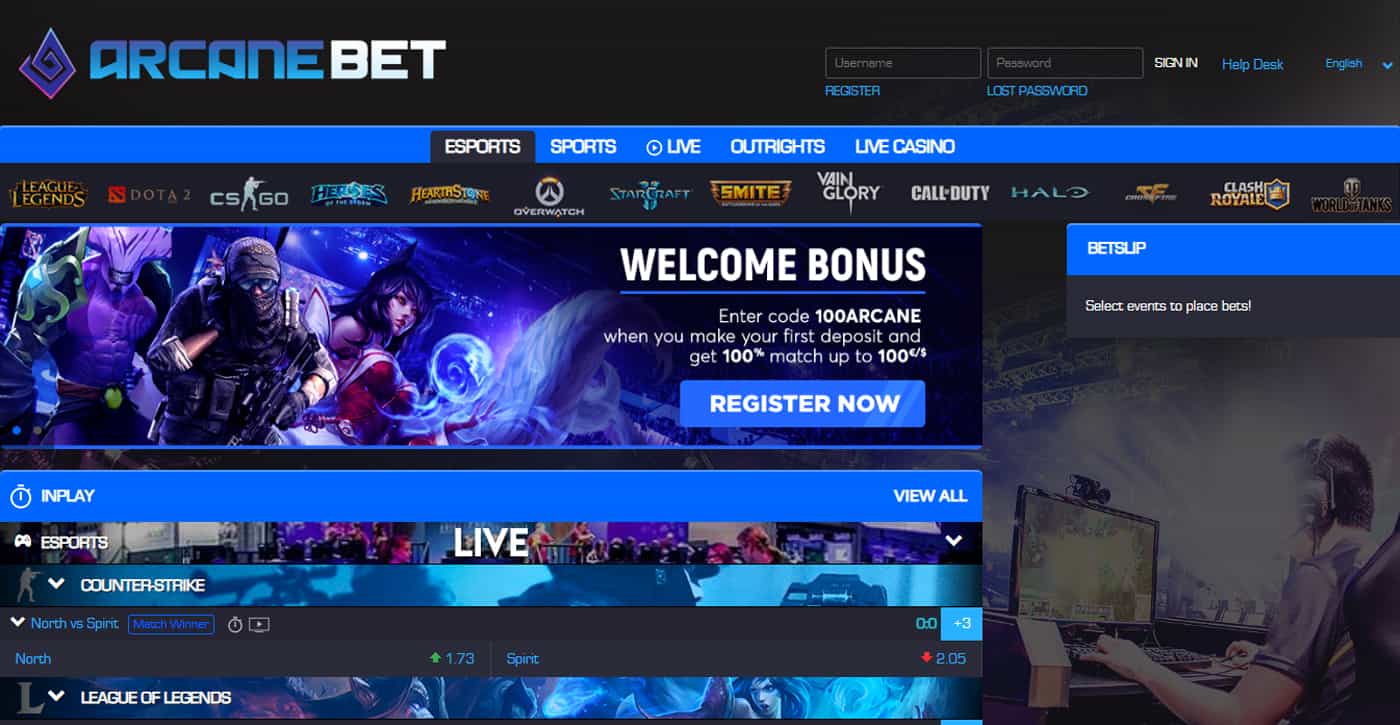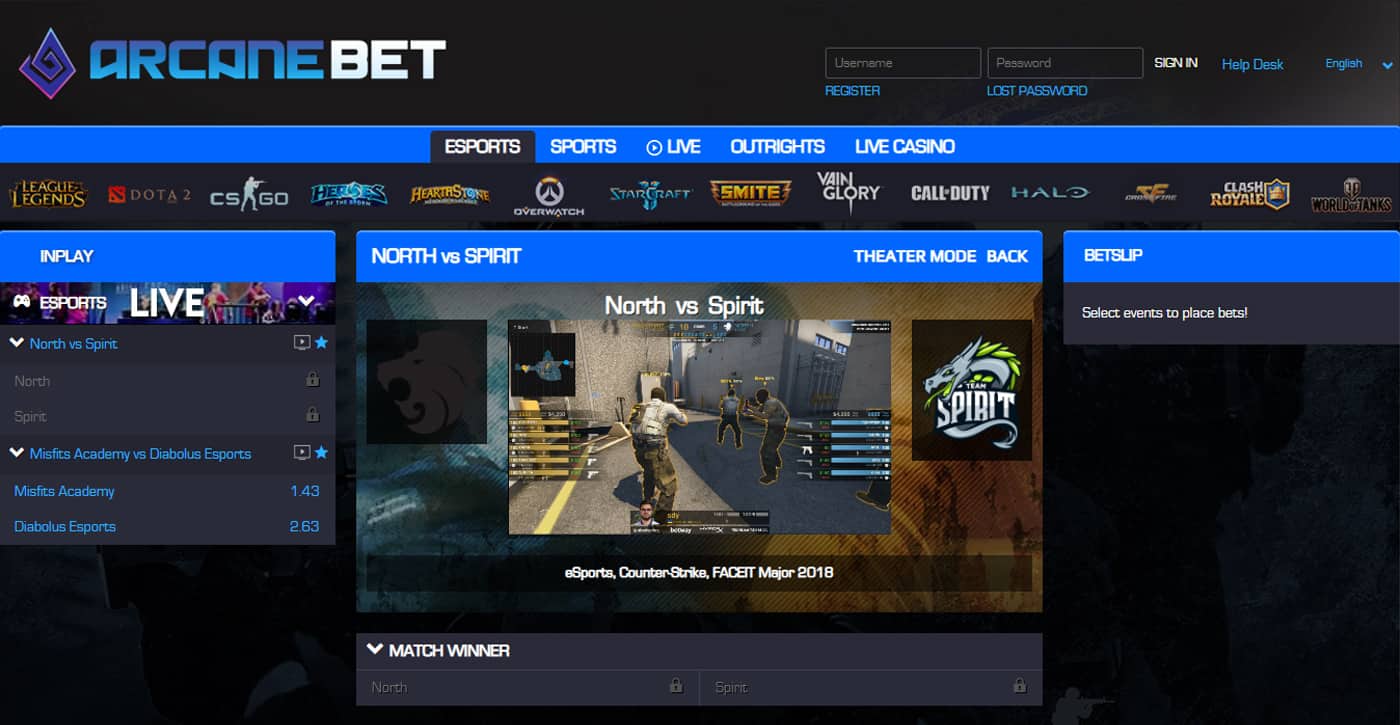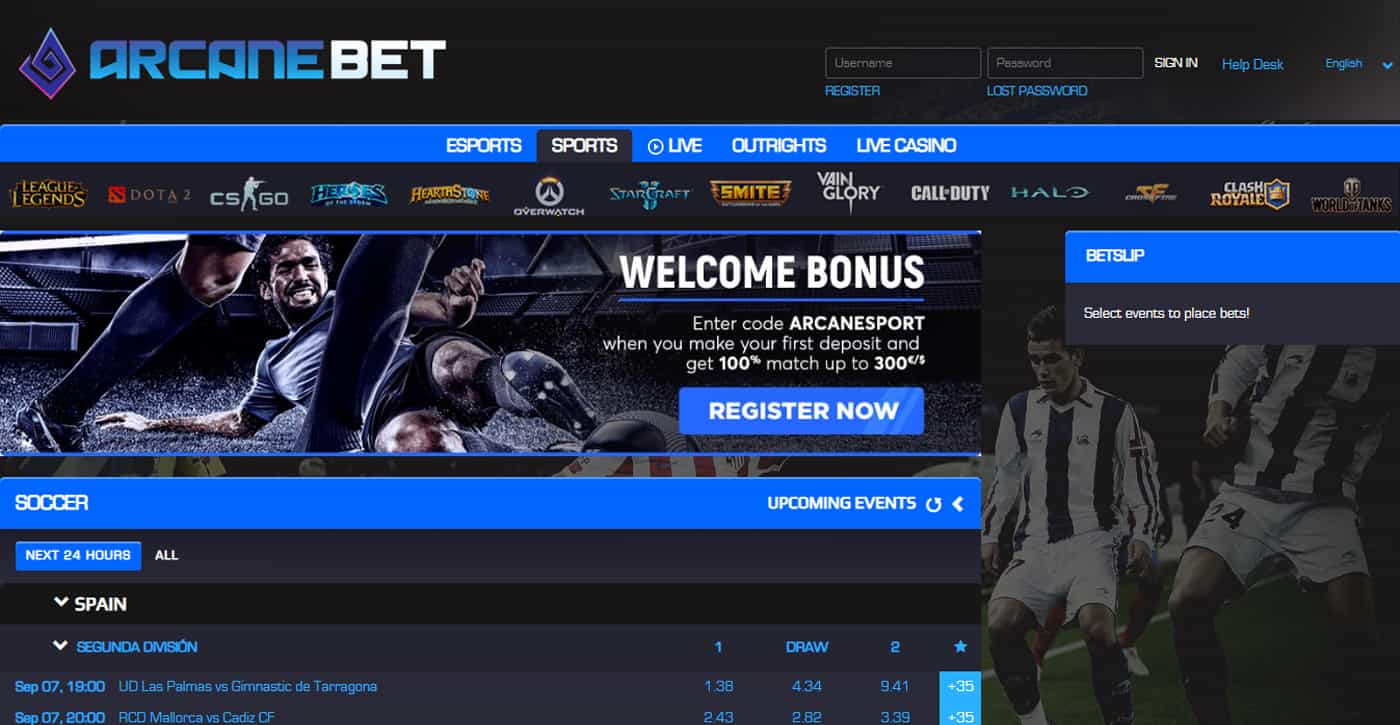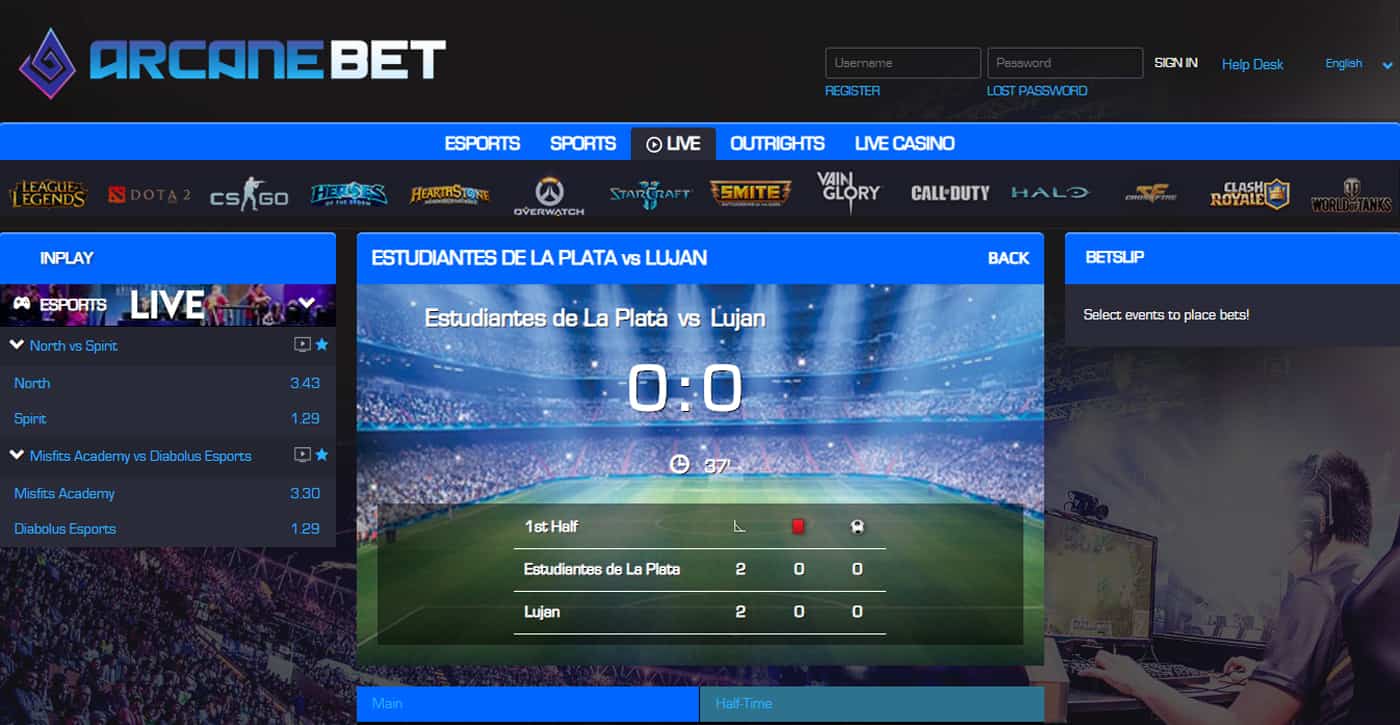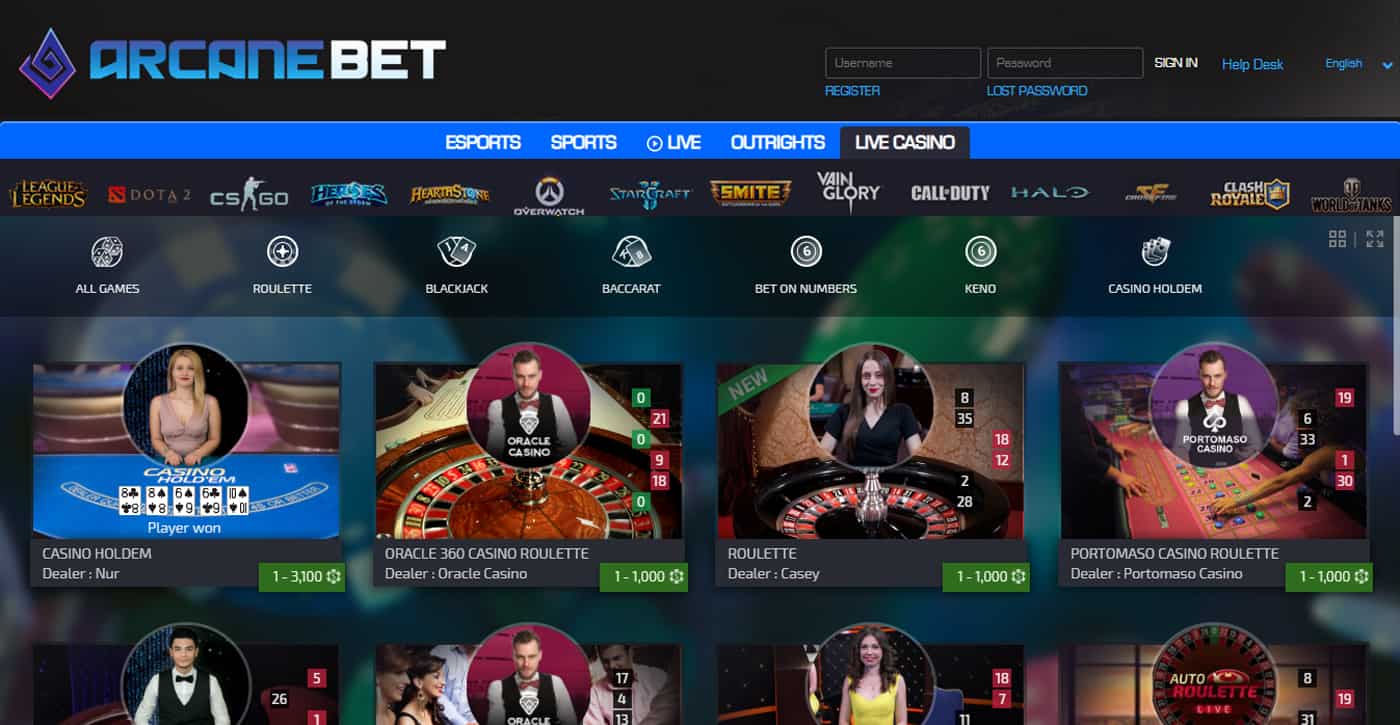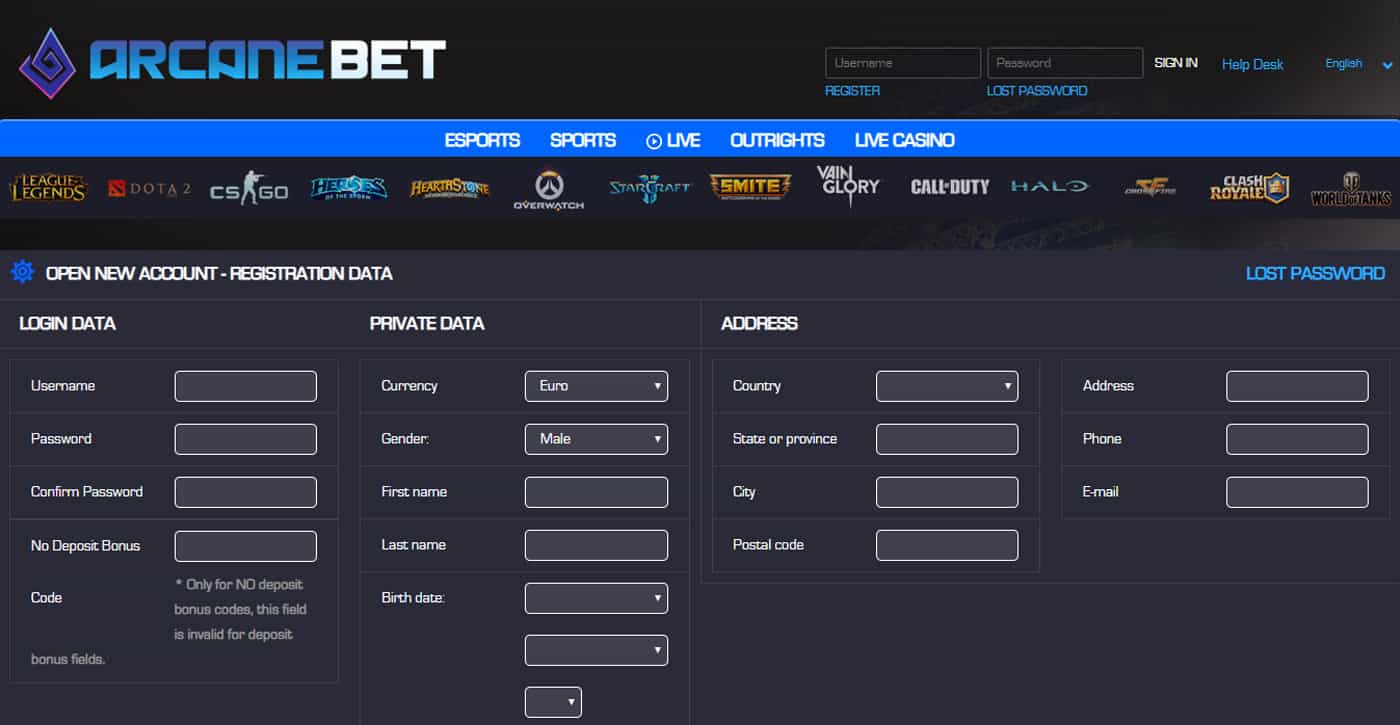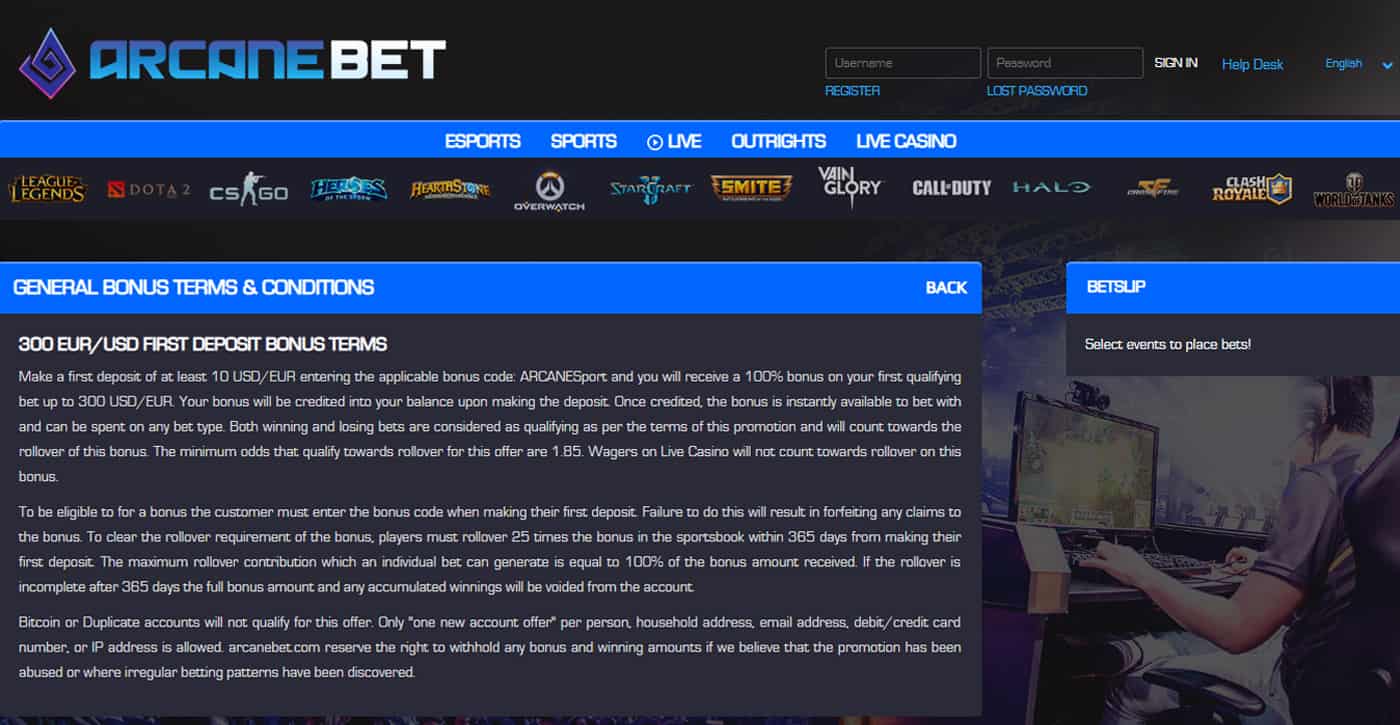 Esports Available to Bet On
You can bet on a wide variety of esports at Arcane Bet. On every page of the site, a menu of esports is listed below the main menu. Clicking on the names of these sports takes you to a page encouraging you to sign up, but some of those pages don't have any information about upcoming events for that game.
This could mean that there are no events upcoming for those games, so we've listed those games below. Clicking on the main esports option on the main menu takes you to a list of upcoming events where you can actually place bets.
As far as the variety of games you can bet on goes, Arcane Bet offers a reasonably wide selection compared to other websites operating in this space.

Visit Site
League of Legends
DOTA 2
CS:GO
Heroes of the Storm
Warcraft 3
Hearthstone
Overwatch
Starcraft
Smite
NBA2K
Vainglory
Call of Duty
Halo
Crossfire
Clash Royale
World of Tanks
King of Glory
Starcraft Broodwar
Bonuses and Promotions
Like most sites in the online gambling space, Arcane Bet incentivizes new signups from real money bettors by offering a signup bonus. When you make your first deposit at Arcane Bet, you're awarded a 100% matching deposit bonus of between $10 and $100. (You can also claim this in EUR, if that's your preferred currency.)
The code for claiming this bonus is "100ARCANE." To claim your bonus, all you need to do is sign up for a real money account with the site and input that bonus code in the appropriate field when filling out the signup form online at the site.
The bonus is based on how much you deposit. If you deposit $20, you'll get a $20 bonus—100% of the size of your initial deposit. The maximum bonus, though, is $100. If you deposit $100, you get a $100 signup bonus. If you deposit $200, you still only get a $100 signup bonus.
This bonus is not available to bettors depositing via Bitcoin. The bonus also has a 20x rollover requirement. You must wager the amount of the bonus 20 times before cashing out, and you have 180 days to accomplish this.
In other words, if you get a bonus of $100, you must make $2000 in wagers before being able to cash out your winnings. That sounds like a lot, but it's not as much as you think. 20 bets of $100 each is $2000 in bets. You'll win some of those, and you'll lose some of them, too. Whatever's left is what you can cash out.
Like most sites in the online gambling industry, the availability of bonuses and other promotions changes from time to time. Some of these are seasonal. The site also offers a rewards program for people who participate in betting at ArcaneBet.com on a regular basis.
Deposit and Withdrawal Options
Arcane Bet has an impressive list of banking methods available. The following options are available for depositors:
Visa/Mastercard
Skrill
InPay
Sofort
Neteller
Paysafecard
QiWi Wallet
Moneta.ru
Some of these options are credit cards, others are internet wallets, while others are prepaid credit cards or bank transfer methodologies. Your options might be limited by your country of origin. To get a complete list of options, sign up for an account and look at what's listed as available from your account page.
Deposits are usually available to your account instantly.
Withdrawals take 3 days to process, and there might be additional processing time based on which withdrawal method you're using. You cannot withdraw more than $100,000 during a 30-day period, either. (That won't apply to most of our readers, but it might be an issue for some high rollers.)
Arcane Bet also requires that before you make any withdrawal, regardless of whether you've received a bonus amount, you wager your deposit at least twice before making a withdrawal request. The minimum withdrawal amount is $10. Arcane Bet might also ask you to hop on a conference call via Skype or some other video call service to ensure that you are who you say you are when making a withdrawal. Some bettors might find this inconvenient, but we appreciate the additional security such a policy demonstrates.
Most of the payment methods listed above also work as withdrawal methods, with a few exceptions (like Sofort or Paysafecard.)
If you're withdrawing a small amount of money, the easiest way is to just get credit back to the Visa or Mastercard you made your deposit with. If you want to withdraw funds via Skrill, you'll get your funds within 48 hours of the finalization of the withdrawal request. The total elapsed time between the request and the withdrawal, in that case, is about 5 days—3 days for processing from Arcane Bet, and 2 days for processing via Skrill.
If you want to receive your funds via bank transfer, you should be withdrawing a significant amount of money. Fees for wire transfers always apply in these cases, so unless the amount is large ($500+), it's not worth the fees. Moneta.ru and QiWi withdrawals are fast and cost nothing. This is an excellent withdrawal option for people who use QiWi on a regular basis.
Mobile Compatibility and User Experience
The desktop site for ArcaneBet.com is attractive, well-designed, and easy to use. But the lack of bets under the submenu for the specific games is not user-friendly at all.
The color scheme is easy on the eyes, and the site has clearly labeled navigation in both the top menu and in the footer. It was refreshing to be able to so easily find the site's terms and conditions. (Some websites in this space make it hard to find the fine print, much less read it.)
Arcane Bet is also available in a mobile format that's easy to use regardless of your operating system. Android and iOS users should have no problem using the website's interface.
You do not need a specific app to use the ArcaneBet.com interface. You can just access the site and all its functionality via the web browser on your phone or tablet.
Other Gambling Activities Available
Arcane Sports focuses largely on making betting on various esports available, but that's not the only product available there. You can also bet on more traditional sports, including:
Basketball
Ice Hockey
Soccer
Tennis
You're probably here because you're interested in betting on esports. One aspect of Arcane Bet that we like is its focus on that side of the business. They offer just enough other choices for you to get some variety without overwhelming you with choices.
Most esports betting sites don't offer poker rooms, and Arcane Bet is no exception. The additional betting activities are limited, but we think this is a feature rather than a drawback.
Is This a Good Site for Esports Bettors?
Arcane Bet is a newer site, but their single-minded focus on their mission of offering user-friendly esports betting makes it an excellent site for the esports bettor. If you're looking for a site with more of a wide range of betting activities, you might be better served elsewhere.
We're also impressed with the clean, user-friendly interface. The wagering requirements for the bonus are fair, and the size of the bonus isn't so great that it's impossible to hit those requirements.
The site also offers an excellent menu of deposit and withdrawal methods. If you live in a country that Arcane Bet does business in, you should have an enjoyable experience with the site.